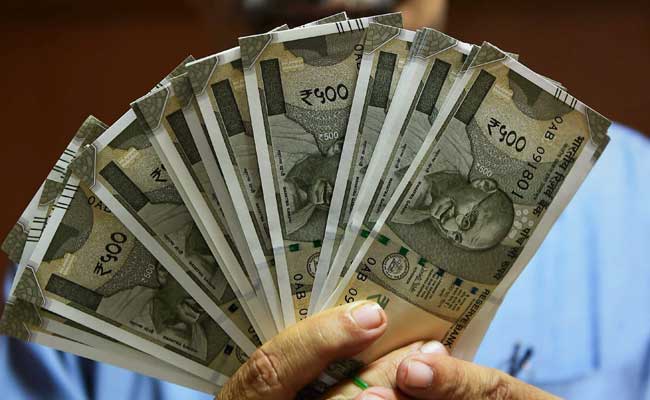 APY or Atal Pension Yojana is a pension scheme mainly focused on unorganised sector employees. Available to all Indian citizens with a bank account, Atal Pension Scheme or APY is a government-run scheme that can be utilized to earn a fixed monthly pension of Rs 1,000-Rs 5,000, according to pension regulator PFRDA's website - pfrda.org.in. Atal Pension Yojana's subscriber base stood at 97.05 lakh at the end of fiscal year 2017-18, news agency Press Trust of India reported earlier this month. At over 97 lakh, the APY subscriber base was a tad lower than the target of 1 crore set by the regulator for the year.
Here are 10 things to know about Atal Pension Yojana (APY):
1.
Who can invest?
Pension scheme APY is open to all citizens of the country between 18 and 40 years of age. Opening an APY account requires a saving account either with a bank or a post office.
"Atal Pension Yojana (APY) is primarily focused to improve the financial and social security of Indian population whose employment comes from an unorganized sector. It is suitable for the individual belonging in lower income group or one who doesn't have a fix employment," Dinesh Rohira, founder and CEO, 5nance.com, told NDTV. (
Also read
:
How To Invest In Atal Pension Scheme (APY) To Earn Pension of Rs 5,000 Per Month
)
2.
Contribution
: 18-year-old APY subscribers need to contribute Rs 42-Rs 210 per month. The contribution amount increases with increase of age. The contribution is deducted from the subscriber's bank account through an auto debit facility. The contribution amount depends on the age at which one enrolls in the pension scheme. The auto withdrawal/debit facility is optional. Here's what happens if you don't opt for it: Delayed contribution is payable with overdue interest of 1 per month for contribution for Rs. 100 or part which shall be a part of corpus, according to Pension Fund Regulatory and Development Authority (PFRDA). (
Also read
:
Latest bank FD interest rates
)
3.The minimum period of contribution under pension scheme APY is 20 years.
4.
Mode of contribution
: APY subscribers can pay their contributions to the pension scheme in three modes: monthly, quarterly and half-yearly.
5.
Pension amount
: Minimum pension amounts offered under APY (Atal Pension Yojana) are fixed at Rs 1,000, Rs 2,000, Rs 3,000, Rs 4,000 and Rs 5,000 per month. The subscriber gets to choose the minimum pension amount at the time of subscription. Any one pension amount among these five is paid to the joinee after he or she attains the age of 60 years. This amount depends on contributions. (
Also read
:
Why you must deposit money in PPF account by 5th of every month
)
6.
Income tax benefit
: Contributions under the pension scheme enjoy the same tax benefits as the NPS (National Pension System). Contributions can be claimed under Section 80CCD (1B) of the Income Tax Act. The current limit for income tax deduction Section 80CCD (1B) is Rs 50,000. This is over and above the Rs 1.5 lakh allowed under Section 80C.
7.
Premature exit
: PFRDA allows exit before the subscriber attains the age of 60 years "only in exceptional circumstances, i.e., in the event of the death/ terminal disease".
8.
Why invest in APY or Atal Pension Scheme
: While APY can be subscribed at 18-40 years of age, experts advise entering APY as early as possible to reap the maximum benefit. It is always advisable to start early, says Mr Rohira of 5nance.com. "One should look for investing in APY scheme if the individual doesn't have significant or larger corpus to invest. It can also be subscribed by individual who doesn't have dependent family member to look after in old age," he says.
Opting for this scheme helps to get minimum monthly income ranging from Rs. 1,000 to Rs. 5,000 with minimal investable amount, and which can secure the minimal daily needs of individual, he adds. "For instance, a subscriber at the age of 18 will have to pay Rs. 210 on monthly basis for Rs. 5000 slab. This accounts to total investment of Rs. 1,05,840. If the subscriber opts at the age of 40 for the same pension slab, a monthly investable amount is Rs. 1454. Therefore, the total investment comes to Rs. 3,48,960, which means a person will pay Rs. 2,43,120 more to get same pension slab. It is always advisable to start early," explains Mr Rohira.
9. Atal Pension Yojana is administered by PFRDA and implemented through all the banks nationwide.
10.
Death
: In case of death of subscriber, the monthly pension is paid to the spouse. This continues till the spouse of the main subscriber is alive. After death of the spouse, the accumulated pension wealth is returned to the nominee of the subscriber, according to PFRDA. In the event of death of the main subscriber, the spouse has the option to continue to contribute for the balance period. (
Read more
)
APY was launched in May 2015. PFRDA has introduced an online registration facility through e-NPS or electronic-National Pension System channel. Those looking to subscribe to Atal Pension Scheme do not need to submit any physical documents under this process.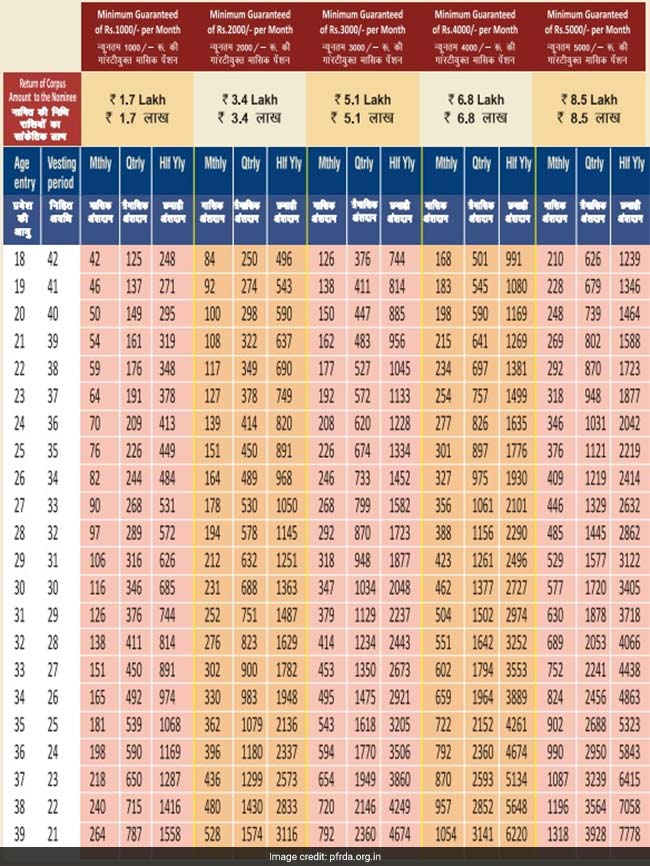 (Using a chart, PFRDA explains the contribution levels vis-a-vis minimum fixed monthly pension)