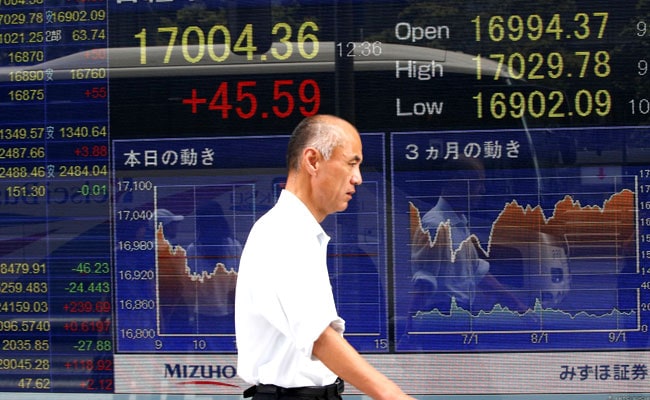 Asian stocks advanced for a third day as crude oil traded near a 15-month high following an unexpected drop in U.S. crude oil stockpiles. Mexico's peso was close to its strongest level in six weeks before the final U.S. presidential debate.

Energy shares were among the best performers on the MSCI Asia Pacific Index after crude closed above $51 a barrel on Wednesday in New York. South Korea's Kospi index climbed for a fifth day and equity index futures foreshadowed gains in China, Hong Kong and Singapore. The peso -- which has tended to strengthen when Republican presidential candidate Donald Trump's prospects dim -- edged higher even as the dollar strengthened versus most peers. Bonds fell in Australia and New Zealand after Saudi Arabia conducted the biggest-ever debt sale by an emerging-market nation.

The decline in U.S. oil inventories comes as OPEC works on a deal to reduce crude output and so alleviate a glut that has dogged energy markets for the past two years. Trump will go head-to-head with Democratic rival Clinton in the third and final debate as investors count down to the Nov. 8 election and the next Federal Reserve meeting, which is just two weeks away. A Bloomberg Politics national poll showed a nine percentage-point lead for Clinton, while traders expect the Fed to put off a hike in interest rates until the central bank's December meeting.

"The presidential debate is a must watch for investors in the Asia-Pacific region," Michael McCarthy, chief market strategist in Sydney at CMC Markets, said in an e-mail to clients. "A clear win for either candidate is important - markets are likely to buy Clinton and sell Trump."

As well as the debate, traders will be looking out for Australian jobs data Thursday, reports on store sales in Japan as well as export orders in Taiwan. Indonesia has an interest-rate review and 46 percent of the economists surveyed by Bloomberg predict there will be a cut. The European Central Bank also has a policy review that may shed light on the outlook for its quantitative-easing program.

Stocks

The MSCI Asia Pacific Index was up 0.2 percent as of 9:47 a.m. Tokyo time, with a gauge of energy shares climbing 0.5 percent. The Kospi added 0.2 percent and Japan's Topix index gained 0.5 percent, while futures on Hong Kong's Hang Seng and Hang Seng China Enterprises indexes climbed at least 0.4 percent. FTSE China A50 Index contracts were up 0.2 percent.

S&P 500 Index futures increased 0.1 percent following the underlying benchmark's 0.2 percent advance on Wednesday. Morgan Stanley and Halliburton Co. rallied on better-than-estimated results, while the Nasdaq Composite Index closed up just 0.1 percent as Intel Corp.'s disappointing sales outlook drove chipmakers lower.

Commodities


Crude oil declined 0.2 percent to $51.49 a barrel in New York, after surging 2.6 percent on Wednesday. Official data showed U.S. supplies dropped by 5.25 million barrels last week to the lowest level since January, while all 10 analysts surveyed by Bloomberg had forecast an increase. Many nations are willing to join the Organization of Petroleum Exporting Countries in cutting production, according to Khalid Al-Falih, energy and industry minister of Saudi Arabia.
Currencies
The Bloomberg Dollar Spot Index rose for the first time this week as the Australian and Canadian dollars weakened 0.2 percent versus the greenback.
Mexico's peso was up less than 0.1 percent, having strengthened 7 percent in the past month as opinion polls indicated Trump will probably lose in the coming election. The peso has been sensitive to Trump's fortunes because he's proposed renegotiating or ending trade deals with Mexico and blocking remittances to force the country to pay for a wall along the U.S. border.
The ringgit rose 0.4 percent as the last session's increase in oil prices brightened prospects for Malaysia, Asia's only major net exporter of crude.
© 2016 Bloomberg L.P
(This story has not been edited by NDTV staff and is auto-generated from a syndicated feed.)