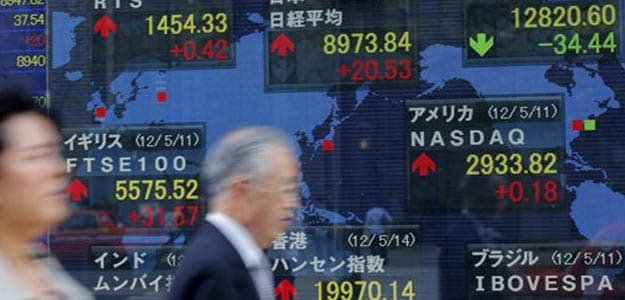 Asian shares rose on Tuesday on hopes of a compromise in the U.S. fiscal crisis, while the euro fell after Moody's Investors Service scrapped France's top-notch credit rating, reminding investors of the downside risk from the euro zone debt woes.
With risk assets from stocks to commodities rallying over the past two sessions, recovering some of last week's sharp losses, markets were prone to profit taking as trading will likely slow ahead of Thanksgiving holiday weekend.
The dollar steadied against a basket of key currencies after Monday's 0.5 per cent drop, capping commodities and gold. Oil also retreated from a near 3 per cent jump on Monday.
U.S. stock futures eased 0.1 per cent to hint at a weak Wall Street open. Financial spreadbetters predict London's FTSE 100, Paris's CAC-40 and Frankfurt's DAX will open down as much as 0.3 per cent.
MSCI's broadest index of Asia-Pacific shares outside Japan added 0.7 per cent, led by the materials and technology sectors.
Wall street climbed nearly 2 per cent on Monday thanks to expectations that U.S. Congress reach a compromise to avoid $600 billion in tax increases and spending cuts due to start in January - the "fiscal cliff" that threatens to derail the U.S. economy.
"There's some optimism at the moment about the Americans doing something constructive about their fiscal cliff problem," said Damien Boey, equity strategist at Credit Suisse.
Tech stocks lifted Korean shares up 0.6 per cent and Hong Kong stocks added 0.8 per cent to a one-week high.
Shanghai shares fell 0.5 per cent, nearing their lowest since early 2009 hit on Monday, after data showed China's foreign direct investment inflows fell 3.45 per cent in the first 10 months of 2012 from a year ago.
Japan's Nikkei average inched down 0.1 per cent, after reaching a fresh two-month high earlier in the day.
As expected, the Bank of Japan took no fresh steps after a two-day policy meeting on Tuesday, reiterating that it would pursue powerful monetary easing as Japan's economy is weakening.
The dollar fell 0.2 per cent to 81.23 yen, but held near its highest since April 25 of 81.59 yen touched on Monday.
David Baran, co-founder of Tokyo-based hedge fund Symphony Financial Partners, said Japanese equities and the yen were attractive in comparison to other Asian assets. Nikkei has stayed at the lower end of ranges through 2012 and there are expectations that next month's election will result in a government that wants the BOJ to take stronger stimulus steps.
"Just from a risk-reward standpoint, you are seeing investors looking at Japan, looking at the yen and natural extrapolation of maybe we've seen the end of the bottom range of the dollar/yen," he said. "If you are trying to trade big moves, turning points, then you are getting into low risk, high reward possibility in yen and subsequently Japanese equities."
TAIL RISKS REMAIN
Euro zone finance ministers are expected to give a tentative go-ahead for the disbursement of 44 billion euros in emergency loans to Greece at a meeting later on Tuesday and discuss how to reduce Greek debt and provide two extra years of external financing to help Athens meet its fiscal target.
Ratings agency Fitch on Monday warned that failure to reach a deal on the "fiscal cliff" could trigger a recession and push the U.S. jobless rate above 10 per cent. Given such "far-reaching effects," Fitch said it did not expect Congress to allow it to happen, echoing recent market optimism.
But Richard Franulovich, senior currency strategist at Westpac Securities in New York, said in a note that the positive conciliatory rhetoric over the "fiscal cliff" could easily come unstuck, while anything that is produced at the euro zone finance ministers' meeting is likely to be piecemeal.
"Given our read of the fiscal cliff and Greek risks we remain comfortable fading strength in risk assets," he said.
The euro zone's debt crisis saw Moody's cut France's government bond rating to Aa1 and keep its negative outlook, citing the country's uncertain fiscal outlook and deteriorating economic prospects.
France's downgrade sent the euro down 0.3 per cent to $1.2777 from $1.2810, before it steadied to $1.2797, and also weighed on the euro against the yen.
Hiroshi Maeba, head of FX trading Japan for UBS in Tokyo, said the reaction to the downgrade was limited, as trading was getting lighter ahead of Thanksgiving weekend.
"Given the recent market rally, the rest of the week is likely to be spent on adjusting positions before the long weekend, with any uptick giving way to profit taking," he said.
Brent crude held steady above $111 a barrel on Tuesday, less than a dollar away from a one-month top hit in the previous session, on hopes over the U.S. budget crisis and supply worries triggered by tensions in the Middle East.
U.S. crude futures eased 0.3 per cent to $89.06.
Spot gold was nearly flat at $1,732.05 an ounce.
With risk appetite recovering, credit market spreads on the iTraxx Asia ex-Japan investment-grade index tightened by 4 basis points.
Copyright @ Thomson Reuters 2012