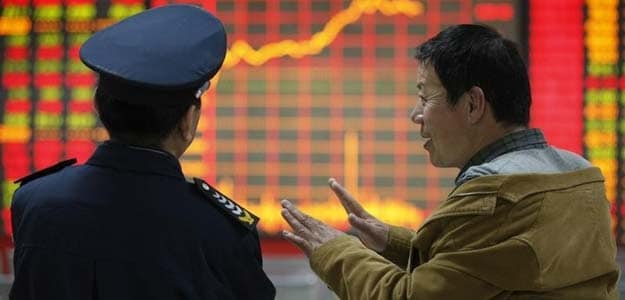 Tokyo:
Asian shares were off to a cautious start near a three-year high on Tuesday while the US dollar was listless as investors took new bets that US monetary policy will stay loose for some time.
MSCI's broadest index of Asia-Pacific shares outside Japan ticked down 0.1 per cent, though it was still within 0.3 per cent from a three-year high hit three weeks ago. Japan's Nikkei gained 1.0 per cent.
A string of fairly upbeat but relatively minor US economic data published on Monday did little to weaken expectations, rekindled after surprisingly weak first quarter growth data, that the US Federal Reserve will keep an easy monetary policy for some time.
A leading indicator of US home sales jumped to an eight-month high in May while a gauge of factory activity in the Midwest eased slightly.
That perception could quickly change if Thursday's US employment report shows strong job growth.
San Francisco Fed President John Williams said on Monday the US central bank will probably need to keep interest rates near zero for at least another year, even as he expressed optimism the economy is on a recovery path.
The civil war in Iraq could be undermining risk appetite as investors scratched their heads to grasp the ramifications after a Sunni military leader was declared as caliph of a new Islamic state in lands seized across a swath of Iraq and Syria.
"The US employment growth has been pretty strong in the past several months so it makes me wonder why markets focused on such an old GDP data. I suspect that geopolitical concerns are also making investors cautious," said Ayako Sera, senior market economist at Sumitomo Mitsui Trust Bank.
Dollar Under Pressure
As investors expect the Fed to keep interest rates near zero - thus undermining the currency's yield attraction - the dollar was broadly weak.
The dollar index hit a six-week low of 79.759 on Monday and last stood at 79.801.
As the dollar wilted, the euro rose to six-week high of $1.3698 on Monday and last traded at $1.3693, though the common currency is facing resistance at $1.37.
The yen rose to 101.235 yen to the dollar the previous day and last traded at 101.31 yen, showing no reaction to mixed readings in the Bank of Japan's tankan corporate survey.
The British pound stood at $1.7106, having risen to $1.7115 on Monday, the highest level since October 2008.
Among Asian currencies, the Korean won held firm near six-year high.
The next focus in Asia will be China's official manufacturing Purchasing Managers' Index (PMI is due at 0100 GMT. Economists expect the index to rise to 51.0 from 50.8 in May.
The Australian dollar, which is often used as a proxy for trade with China because of Australia's resource exports there, moved little at $0.9434, not far from its year-to-date peak of $0.9461 hit in April.
The Aussie awaits a monetary policy statement from the Reserve Bank of Australia at 0430 GMT, though no change is expected.
Gold hit a 2 1/2-month high of $1,329.10 dollar per ounce on Monday and last stood at $1,326.30, helped by the dollar's weakness as well as heightened geopolitical tensions.
Ukrainian President Petro Poroshenko said on Tuesday government forces would renew offensive operations against pro-Russian rebels and "free our lands", hours after a ceasefire to make way for peace talks with the rebels had expired.
Oil prices eased from nine-month highs hit last month on easing concerns about supply disruption in Iraq as the government forces appeared to be staving off Sunni militants from major refineries in the countries.
US crude futures traded at $105.51 per barrel, off high of $107.73 hit less than two weeks ago.
Copyright: Thomson Reuters 2014