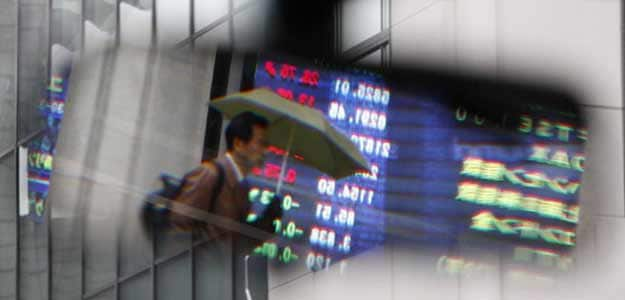 Tokyo:
Asian shares rose on improving risk sentiment while the yen steadied ahead of the weekend meeting of G20 finance and central bank officials, whose views on global growth and differences over currencies will be scrutinised by investors.
"Asian markets have extended gains with risk sentiment remaining resilient as markets continue to push to new highs. Ahead of the European open, we are calling the major bourses relatively flat with GDP numbers in focus," Stan Shamu, market strategist at IG Markets, said in a note.
Financial spreadbetters were predicting London's FTSE 100, Paris's CAC-40 and Frankfurt's DAX would open little changed ahead of European gross domestic data. US stock futures were also steady, suggesting a similarly quiet Wall Street open.
The MSCI's broadest index of Asia-Pacific shares outside Japan extended gains, rising 0.6 per cent as its materials sector outperformed with a 1.6 per cent increase partly on a jump in shares of top miners ahead of earnings news from Rio Tinto.
Australian shares rose 0.7 per cent to their highest since September 2008, as a strong earnings season and receding fears about European and US debt woes bolstered investor sentiment.
South Korean shares were flat after Wednesday's three-week closing high and biggest daily percentage gain since January 2 when investors cheered a pause in the yen's decline.
Market reaction was muted after monetary policy decisions from South Korea and Japan during Thursday's sessions.
The Bank of Korea held interest rates steady for a fourth straight month as expected, as global economies show signs of improvement and domestic inflation remains low. But the decision was not unanimous, its governor told a news conference.
The Bank of Japan also kept monetary policy steady and upgraded its economic assessment, as recent falls in the yen and signs of a pick-up in global growth give it some breathing space after expanding stimulus just a month ago.
A pause in the yen's rebound positively affected Japanese equities on Thursday, with the Nikkei average advancing 0.7 per cent after Wednesday's 1 per cent slump when the firming yen prompted investors to take profits on exporters.
"Usually the BOJ doing nothing causes a bit of disappointment, but since there are concerns about the flak Japan might get at the G20 this weekend for the weakening yen, standing pat will actually be a relief to the market," said Masayuki Doshida, senior market analyst at Rakuten Securities.
Markets in China and Taiwan remain shut for the Lunar New Year holiday but Hong Kong resumed trading on Thursday.
Yen in spotlight
The dollar recouped earlier losses to inch up 0.1 per cent to 93.49 yen after marking its highest level since May 2010 of 94.465 on Monday. The euro steadied at 125.60 yen, below its peak since April 2010 of 127.71 yen touched last week.
The yen lost nearly 20 per cent against the dollar between November and early February, and more than 20 per cent against the euro.
The yen began its steady fall in mid-November as expectations built for a new government to take aggressive steps to bring Japan out of years of slump. Prime minister Shinzo Abe is pushing for strong reflationary steps, pressuring the BOJ to take unprecedented expansionary measures.
The yen's rapid depreciation, after years of sharp appreciation, has drawn some criticism from overseas, with rhetoric heating up ahead of the Group of 20 nations meeting on Friday and Saturday in Moscow.
Russian deputy finance minister Sergei Storchak told reporters on Wednesday in Moscow that the yen was "definitely overvalued" and that "there are no signs" that Japan's monetary authorities were intervening on the foreign exchanges.
Yuji Saito, director of foreign exchange at Credit Agricole in Tokyo, said various interpretations this week over what the G20 may say about Japan's policy and a weak yen trend "have been used as an excuse to adjust positions ahead of the meeting, and I expect forex to be in ranges."
"Currency will be discussed but I think Russia wants the meeting to focus on broader economic issues involving emerging markets as it is the G20 gathering," he said.
Traders and analysts say 90-95 yen to the dollar appeared to be a comfortable range for now, unless upside surprises emerge in the US economy or Japan quickly implements unexpectedly drastic reflationary policies, both of which will swing the dollar higher above the range.
They said the yen's upside was also capped around 87 yen, halfway between its slump from mid-November to early February.
Market reaction was muted to comments from Jack Lew, President Barack Obama's pick to run the Treasury Department, who on Wednesday said he would support a strong US dollar, in line with longstanding US policy.
Data published on Thursday showed Japan's economy shrank 0.1 per cent in October-December from the previous quarter, falling for a third straight quarter.
US crude was up 0.1 per cent to $97.13 a barrel and Brent added 0.1 per cent to $117.98.
London copper rose 0.2 per cent to $8,240.50 a tonne.
Gold regained some strength as recent losses attracted buying interest from Asian jewellers after the Lunar New Year break, but firmer equities could limit gains.
Copyright @ Thomson Reuters 2013