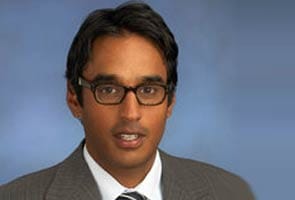 New York:
Indian-origin Ashok Varadhan has been appointed co-head of the Goldman Sachs' securities division, the largest and most profitable of the global investment bank's four units.
Mr Varadhan, 41, is currently the head of macro trading in Goldman's Securities Division and will join Isabelle Ealet and Pablo Salame as co-head of the Securities Division.
In an internal memo, Goldman's chief executive Lloyd Blankfein yesterday said Mr Varadhan has been an "effective voice on a number of firm wide, regional and divisional committees", including the management committee, growth markets operating committee and firm wide risk committee.
"As a long-tenured leader in the Securities Division, Ashok has demonstrated dedication to our clients and a deep understanding of our business," Mr Blankfein said.
As co-head of the securities division, which generates the most revenue and profit for Goldman, Mr Varadhan would build on Goldman's client franchise across its fixed income, currency and commodities and equities businesses.
A Duke University graduate, Mr Varadhan joined Goldman Sachs in 1998 in Swaps Trading and after heading the dollar derivative trading, he ran North American interest rate products and became global head of foreign exchange in 2007.
He was named managing director in 2000 and partner in 2002.
He is the son of eminent Indian-American academician Srinivasa Varadhan, a Chennai native who is Professor of Mathematics at the Courant Institute of Mathematical Sciences at New York University.
The senior Mr Varadhan was awarded the Abel Prize, considered equivalent to the Nobel prize and awarded for outstanding scientific work in the field of mathematics.
The securities unit is the largest of Goldman's four divisions and people who have co-headed the unit previously have gone on to assume top-ranking positions at the bank.
It includes the bank's fixed-income, currency and commodities operations as well as its equities unit. Mr Varadhan serves as vice chairman of the US Treasury Borrowing Advisory Committee. He also serves on the Board of Directors of DUMAC, which manages Duke University's endowment.