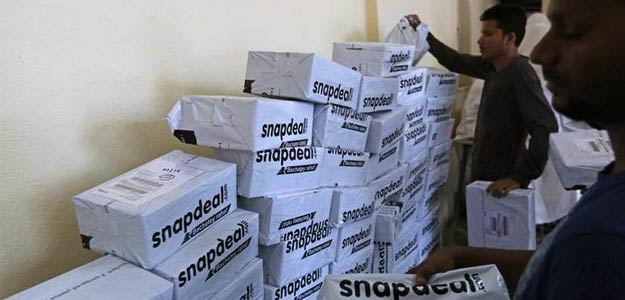 From Japan's richest man to Jeff Bezos, everyone wants a piece of India's booming online retail sector. For those without billions to pump into the tightly held firms who dominate e-commerce, the best bet may be the delivery men.
This week, SoftBank Corp Chief Executive Masayoshi Son joined Bezos's Amazon.com Inc in pledging heavy investment in an e-commerce industry worth $10 billion and seen quadrupling in five years. Son's gambit: a stake in Snapdeal, India's third-biggest online marketplace.
Yet the little-known firms that deliver goods ordered online are already raking in rocketing earnings from e-commerce in a country with the world's third-biggest Internet user base, and they're listed. Shares in companies like Transport Corp of India and Gati Ltd have surged more than three-quarters this year as industry watchers seek a chance to invest.
The forecasts for future expansion, and a key role in it for third-party delivery firms, have helped push the more than $50 billion Indian logistics sector, including Gati and Transport Corp, about 80 per cent higher so far this year. That makes it the fifth-best performing major industry in India by the Thomson Reuters StarMine classification.
Earnings are also ramping up. Net income of Blue Dart Express and Transport Corp is expected to jump by 37 per cent and 24 per cent in this fiscal year respectively, according to Thomson Reuters' SmartEstimates, which place an emphasis on recent forecasts by top-rated analysts. In comparison, net profit of companies in the BSE Sensex is expected to rise just 15 per cent on average.
"When you see the limitless growth in the e-commerce sector, you do want to get involved," said Eric Mookherjee, a Paris-based fund manager at Shanti India, whose holdings include Transport Corp. "The next Alibaba or Tencent can be created in a country whose population is roughly similar to China. You will get that in India."
Finance house Nomura estimated in a research note in July that India's e-commerce industry could more than quadruple to $43 billion over the next five years, driven by online retail.
Though India's Internet population is huge, e-commerce infrastructure remains relatively under-developed and ripe for huge growth.
As the market surges, competition for customers among e-commerce firms will see them seek to cut delivery times and expand into smaller cities. While Amazon and Snapdeal use both in-house logistics networks and external service providers, new services will see them relying increasingly on outsourcing.
"Amazon is today advertising 24-hour delivery and that's where people like us come in," said Areef Patel, executive vice-chairman of Patel Integrated Logistics, which serves Amazon India. The 24-hour delivery offer applies only to select postal codes and is not available across the country.
With more than 45 per cent of Amazon's orders in India coming from outside the top eight cities in the country, the company is looking to work with more logistics partners, Amazon India said.