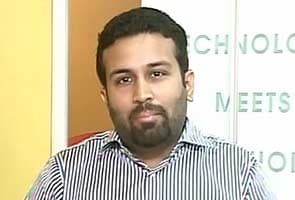 Textile and apparels company Arvind Limited has forayed into e-commerce by launching a new venture that sells customised clothing under the Creyate brand.

Creyate.com, which is already operational, "will bring custom clothing to the online world. It means that customers from their laptops can create and visualise their own clothes before ordering," said Kulin Lalbhai, executive director at Arvind Ltd. (Watch video)

The customised clothing would be made at Arvind's factory and delivered to customers in 10-12 days, he added. Creyate also has offline stores where "Style Stewards" will guide customers.

Mr Lalbhai sees good demand for online personalized clothing in India. "Personalization is a global mega trend," he added. Mr Lalbhai expects Creyate to do around Rs 100 crore business in the first year.
Arvind, which has over 30 apparel brands in its portfolio including 16 international ones, also plans to bring these brands online. This venture will also follow Creyate's offline-and-online model and is expected to be launched later next year.
Its own product brands include Flying Machine, Colt, Ruggers, Excalibur amongst others while its licensed product brands have big global names like Arrow, Gant, Izod, Elle, Cherokee, US Polo Assn. to name a few. It has a joint venture in India with global major Tommy Hilfiger. Arvind also has retail brands like Megamart, The Arvind Store, Club America, Next and Debenhams.


Arvind sees e-commerce as a key growth driver for the over $1 billion, or nearly Rs 6,000 crore, group and targets over Rs 1,000 crore business in three years from this new venture.
To drive its e-commerce play, Arvind has created a subsidiary called Arvind Internet Limited and plans to launch multiple dot.coms, Mr Lalbhai said.