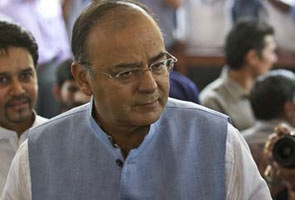 A high fiscal deficit and inflation are major challenges for India, Finance Minister Arun Jaitley said on Tuesday, adding that "mindless populism" in policymaking needed to be checked.

His comments will add to expectations that Mr Jaitley could unveil tough fiscal consolidation measures in his first annual budget on July 10.

An interim budget set a deficit target of 4.1 per cent of GDP for the financial year that began in April, but the fiscal gap has already risen to Rs 2,40,837 crore ($40.05 billion), or 45.6 per cent of the full-year target.

"Fiscal deficit is a major challenge. The growth has slowed down," Mr Jaitley told an event for national auditors in New Delhi.

"Now India needs certain amount of fiscal discipline ... there is hope that bold decisions will be taken now."

He said that although inflation had moderated in the last few months, "it is still beyond the acceptable level".

India's wholesale price inflation hit a five-month high of 6.01 per cent in May, underscoring the challenges faced the new government, whose Prime Minister Narendra Modi has warned he will administer "bitter medicine" to revive the ailing economy.


Food price inflation is near double-digits, with a late monsoon pushing up the cost of vegetables and dairy products. The government has also raised railway fares and fuel prices as crude oil prices have risen on international markets.
Mr Jaitley said populist policies and paralysis in policymaking had slowed growth, and that an improving current account deficit position in the last few months was the only "silver lining" for the Indian economy.
Private economists expect the budget to shift the policy focus from consumption to investment, and address the issue of fiscal imbalances. Mr Jaitley said Indians would have to pay higher prices for better services as any rise in taxation would hurt growth by taking money from the hands of consumers.
"If you indulge in mindless populism, you burden the exchequer. You expect the finance minister to impose higher taxes," he said. "It does not work."
Copyright @ Thomson Reuters 2014