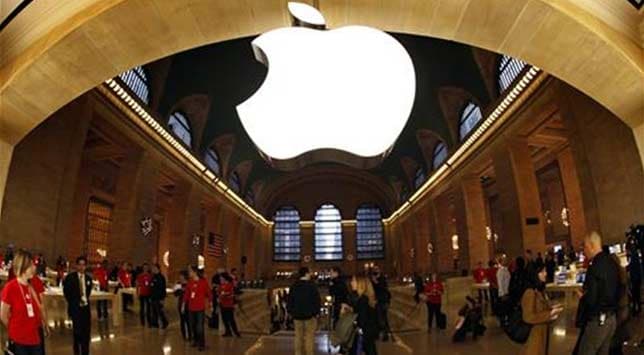 Highlights
From April to June, Apple shipped 26 million iPhones, well below the 28 million to 29 million that Wall Street analysts had predicted, even taking into account a pause in buying ahead of the iPhone 5. It was a far cry from the 35.1 million that moved in t
New York:
Apple results fell short of Wall Street's expectations as the European economy sagged and consumers held off on buying its flagship iPhone ahead of a new version expected in the fall, hitting its stock price.
Shares of the world's most valuable technology company shed more than 5 percent of their value after Apple - which beats Wall Street lofty expectations with near regularity - reported its second quarterly miss on results in less than a year.
The disappointing numbers highlight how the Apple brand is becoming less resistant to the economic and product cycles that have plagued rivals. But despite the disappointment, Apple did put up strong numbers with revenue rising 23 percent to $35 billion and net income up 20.7 percent to $8.8 billion from a year ago.
Apple, which Tim Cook has led since last August, divided the blame for the shortfall between muted consumer purchases in Western European countries and the pullback in demand as consumers wait for a new iPhone model that many expect will be launched in September or October.
From April to June, Apple shipped 26 million iPhones, well below the 28 million to 29 million that Wall Street analysts had predicted, even taking into account a pause in buying ahead of the iPhone 5. It was a far cry from the 35.1 million that moved in the March quarter.
While the size of the miss in earnings was a surprise, many had expected that there would be a pause in iPhone sales.
"Clearly it was a disappointment," said Channing Smith, Co-Manager of Capital Advisors Growth Fund. "We expected a lot of consumers will probably delay their upgrade and their purchases until the iPhone 5 comes out. We saw a similar trend occur last year with the iPhone 4S."
The wait for a new iPhone caused Apple to miss quarterly expectations last fall, for the first time in years. This year, the phenomenon started early, which could mean that Apple's iPhone sales may stall a bit in the current quarter.
Some have low expectations for the September quarter too. Brian White of Topeka Capital Markets said he was reviewing current-quarter estimates on Apple.
Apple, notorious for its conservative forecasts, estimated earnings for the September quarter of $7.65 a share on revenue of $34 billion, well below the average estimate of $10.23 a share on revenue of $38.03 billion, according to Thomson Reuters estimates.
ANTICIPATION BUILDS FOR NEW PHONE
The Silicon Valley giant has a lot riding on its next iPhone, the product that yields more than half its revenue and helps shore up overall margins.
Apple has seen Samsung Electronics <005930.KS> - now the world's largest seller of smartphones - and other handset manufacturers using Google Inc's <GOOG.O> Android software chip away at its market share.
And as consumers await the new iPhone, Samsung's Galaxy is expected to keep chalking up robust numbers. Analysts say profit from Samsung's mobile division is likely to have more than doubled to around 4.4 trillion won from a year ago, with sales of around 50 million smartphones in the June quarter.
In fact, the slower demand for the iPhone started early this year as fans are expecting Apple to launch a completely redesigned phone that has a bigger screen rather than just add or change a few features as it did with the current model.
Less than stellar sales of the iPhone in the fiscal third quarter were partly offset by robust sales of the iPad, the tablet that accounts for well over half the world's market. The tablet sales came in at 17 million in the fiscal third quarter, above expectations.
"It really is the iPhone company. The iPad is not strong enough to beat numbers," said BGC Partners analyst Colin Gillis. "The iPhone 5 is already the most hyped device and for it to exceed expectations is going to be really hard."
MISSING TEMPERED EXPECTATIONS
Executives acknowledged buyers were refraining from purchases because of "rumors and speculation" around the iPhone 5, which sources have said will come with a thinner and larger screen. They laid part of the blame on sputtering demand from European economies like Germany and France, while dismissing the impact of a Chinese slowdown.
"The economy in Europe is not doing well. We think this impacted our results," CFO Peter Oppenheimer said.
Revenue in the Asia Pacific region - which includes China but not Japan - shrank 22 percent to $7.9 billion from the previous quarter, far outstripping the 3 percent to 6 percent fall in revenue in the Americas and Europe.
Apple's Cook partly attributed the sequential $2.2 billion decline in Asian revenue to "changes in channel inventory" in iPhones sales in the Greater China region, which includes Taiwan and Hong Kong.
The "normal seasonality after the very successful iPhone 4S launch" was also partly to blame, he said, adding that he did not see the economy in China as having had an impact on the sales decline in Asia.
Apple's fiscal third-quarter revenue was much lower than the average analyst estimate of $37.22 billion. It reported net income of $8.8 billion or $9.32 a share, compared to $7.3 billion or $7.79 a share a year earlier.
That lagged the $10.37 Wall Street had forecast.
Gross margin for the quarter was 42.8 percent, also lower than the expected 43.68 percent. Apple's hoard of cash and other securities now amounted to $117.2 billion.
Apple sold 4 million Mac computers, which was about flat from the previous quarter but 2 percent higher than the year-ago period.
"Apple is in that rarest of all positions where the Street will punish them for anything less than an excess of success," CCS Insight analyst John Jackson said. "If there's a positive spin on the iPhone story, it is one of latent demand."
copyright @ Thomson-Reuters 2012