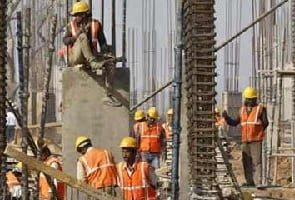 Mumbai: After release of official data pointing to a surge in growth during the first quarter, analysts, led by the chief economic advisor at State Bank of India (SBI), on Monday upgraded their GDP estimates.

"Based on Q1 GDP numbers at 5.7 per cent, we are now revising our forecast for the full fiscal growth to 5.78 per cent," SBI Research's Soumya Kanti Ghosh said in a note.

Foreign brokerage Bank of America-Merill Lynch also marginally upgraded its FY15 growth estimate to 5.5 per cent.


"We grow more confident of our call that the worst is over... we have hiked FY15 growth marginally to 5.5 per cent from 5.4 percent earlier," the US brokerage said in a note.
Mr Ghosh said a strong manufacturing growth, led by a modest investment revival propelled by an earlier than anticipated jump in discretionary consumer spending, makes it an exciting prospect.
BofA-ML said the industrial sector, where it has revised up its estimate to 3.5 per cent as against the earlier expectation of 2.8 per cent, will largely have a higher growth number.
Official data released on Friday said the GDP is estimated to have grown by 5.7 per cent for the April-June period, as against a 4.6 per cent growth notched for the same period year ago.
The estimates come after two years of sub-5 per cent growth, which is attributed to a slew of factors including a sense of 'policy paralysis' due to delays in decision making, depressed world markets and high interest rates.
On agricultural growth, both the analysts were muted in their expectations, especially after official data showing a 3.2 per cent reduction in the summer crop sowing due to the poor rains.
SBI, India's largest lender, said agriculture growth will come down to 1 per cent as against 4.7 per cent achieved last fiscal, while BofA-ML also downwardly revised its agriculture growth estimate to 1.4 per cent from the earlier 2.8 per cent.