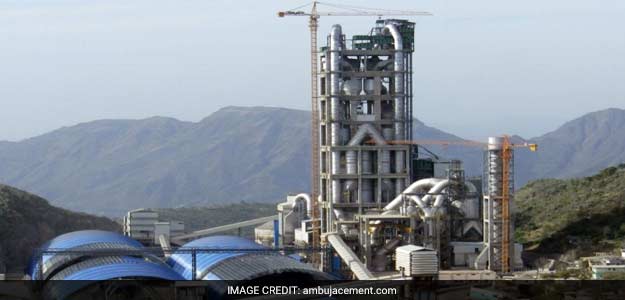 New Delhi:
Ambuja Cement on Thursday reported consolidated net profit of Rs 216.11 crore for the September quarter aided by dividend income from cement maker ACC Ltd.
Part of the Swiss cement giant LafargeHolcim, it had clocked a net profit of Rs 153.93 crore in the year-ago period, Ambuja said in a BSE filing.
Total consolidated income of the company stood at Rs 4,533.59 crore in July-September quarter of 2016. It had reported net income of Rs 2,115.29 crore during the same quarter of last year. It follows January-December as financial year.
Total expenses of the company were at Rs 4,627.74 crore during the quarter under review. They stood at Rs 1,958.62 crore during the period same period last year.
The company said figures for the September 2016 quarter are not comparable with those in the corresponding period as the firm's merger with HIPL was approved in the third quarter.
On net profit, the firm said increase is mainly on account of dividend income of Rs 103 crore from ACC Ltd, upon amalgamation of Holcim India (Pvt) Ltd (HIPL) with the company.
However, Ambuja Cement's sales fell by 6.6 per cent to 4.5 million tonnes (MT) during the September quarter against 4.82 MT in the year ago period.
On the decline, the firm said during the quarter, sales realisation improved by 2.8 per cent. Sales volume, however, was lower by 6.6 per cent due to heavy monsoon in core markets and subdued demand. The net sales in terms of value was correspondingly lower by 4.3 per cent.
During the quarter, the firm received Foreign Investment Promotion Board's approval for acquisition of 24 per cent shares of HIPL for a cash consideration of Rs 3,500 crore and balance 76 per cent by issues of shares of the company.
Further, pursuant to scheme of amalgamation, HIPL has been amalgamated with Ambuja Cement with effect from the appointed date -- April 1, 2013.
As a result, the company has acquired 50.05 per cent shareholding in ACC Ltd, it added.
On outlook, the firm said: "Post monsoon construction activities are likely to pick up. The medium to long term outlook for cement demand remains positive considering good monsoon this year and government's focus on housing and infrastructure development".
Ambuja Cement would continue to focus on improving operational efficiencies, it added.
(This story has not been edited by NDTV staff and is auto-generated from a syndicated feed.)