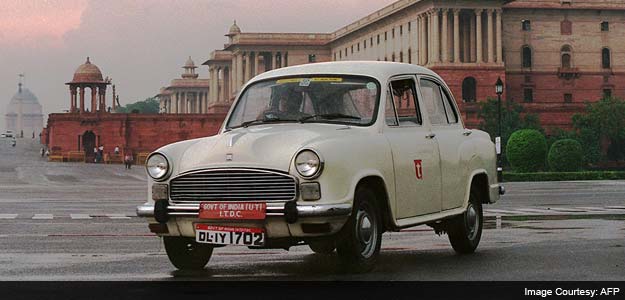 Hindustan Motors, part of the $1.6-billion (nearly Rs 9,500 crore) CK Birla Group, has suspended production at its Uttarpara factory in West Bengal.
The maker of the iconic Ambassador car cited "very low productivity, growing indiscipline, critical shortage of funds, lack of demand for its core product the Ambassador and large accumulation of liabilities" as the reasons behind the suspension of work at the plant.
The Ambassador owes much of its popularity to politicians and senior government officials, who have stuck by the curve-shaped car despite little technological and design changes over the years. The Ambassador, also called the "Amby", is based on Britain's Morris Oxford, which became defunct in 1957.
The opening up of India's economy in the 1990s broke Ambassador's monopoly, though the big setback for the car came in 2003, when German made BMWs replaced the Ambassador as the prime minister's fleet. Bureaucrats followed soon, replacing their Ambys with swanky sedans.
India's Prime Minister-designate Narendra Modi drives in the Scorpio, the best-selling utility vehicle by homegrown auto major Mahindra.
This change of power in New Delhi had a huge impact on Ambassador's fortunes. Ambassador sales dropped from 24,000 cars a year in the 1980s to less than 6,000 in the 2000s. According to media reports, Hindustan Motors churned out just five cars a day recently.
According to many analysts, the car could not keep up with the times. It is a fuel guzzler and maintenance costs are high.
"Had Hindustan Motors continued to evolve the Amby over the past 60 years without changing the DNA, it would have been the Rolls Royce of India," a newspaper quoted India's leading auto designer Dilip Chhabria as saying.
The sharp slowdown in India's economy and the consequent dip in car sales also impacted Hindustan Motors. India's once-booming car market has suffered a slump in recent years, with sales declining for the last two years.
Earlier this year, Maruti Suzuki stopped production of its best-selling model Maruti 800, a car that changed the face of the Indian automotive industry. It's not known if Hindustan Motors will start Ambassador production again, but it's certain that the Amby's good old days are behind us.
The silver lining is that the car still remains popular with taxi drivers, some politicians and tourists looking for a bit of nostalgia on India trips.
Hindustan Motors share traded 10 per cent lower at Rs 12 on Monday. The stock underperformed the broader Sensex, which traded 1.5 per cent higher.
(With inputs from AFP)