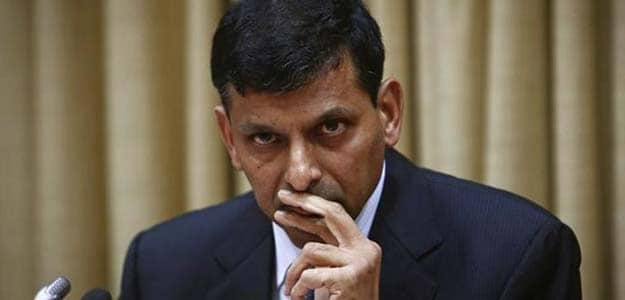 Mumbai:
All eyes are on the new Reserve Bank of India (RBI) Governor, Raghuram Rajan, who will come out with his maiden monetary policy review on Friday amid conflicting demands for a rate cut and an urgent need to contain inflation, which soared to a 6-month high in August.
Much to Mr Rajan's comfort, the US Federal Reserve has decided against tapering its monetary stimulus - under which it has been buying assets worth $85 billion every month - giving him space to go ahead with steps to arrest declining economic growth.
(Read: Fed's decision may help India beat its growth forecast)
The positive impact of the decision by the US central bank on stock and currency markets on Thursday will have a bearing on Mr Rajan's policy announcements, which were pushed back by two days in view of the Fed's crucial meeting on Wednesday.
Bankers have continued to pitch for lowering of rate and easing of liquidity ahead of the mid-quarter review of the monetary policy for 2013-14.
"We have made our recommendations for releasing the liquidity, making it more accessible, making it less expensive," said Pratip Chaudhuri, chairman of State Bank of India (SBI), the country's largest lender.
"We have recommended a cut CRR, repo rate and asked RBI not to restrict the MSF to a particular number. Whatever excess SLR banks hold that should be available for MSF (marginal standing facility)," he said.
Other experts, however, were of the opinion that Mr Rajan would maintain status quo in view of rising inflation.
"I do not expect any change in the key interest rate tomorrow," said D K Joshi, chief economist at credit rating agency Crisil.
While BSE's 30-stock index, Sensex, soared over 684 points or 3.4 per cent to 20,646.64 on Thursday, the rupee gained 158 paise to trade at over one-month high of 61.80 against the dollar following US Fed's status quo stance.
(Read: Rupee ends below 62, Fed move seen helping RBI policy)
The US Federal Reserve, in a surprise move on Wednesday, maintained the pace of its monthly purchases of $85 billion of treasuries and mortgage-backed securities. The Federal Open Market Committee (FOMC) was widely expected to reduce this stimulus to spur the US economy, especially after Fed chairman Ben Bernanke hinted of a roll back in May.
Back home, analysts and market participants are keenly awaiting some announcement on rolling back of liquidity tightening steps announced in July to stem the rupee's free-fall against overseas currencies, particularly the US dollar.
The apex bank had raised the bank rate and MSF to banks by 2 per cent to 10.25 per cent making loans costlier in its bid to contain the rupee slide. Introduced during 2011-12, MSF allows banks to borrow money from the RBI at a higher rate when there is significant liquidity crunch.
"We think this tightening of the liquidity and making it more expensive of course may have been helpful in containing or arresting decline of rupee but it has its collateral cost in terms of growth of economy," Mr Chaudhuri said.
"It is our wish that RBI reverses liquidity tightening measures taken recently so that loans become cheaper," said M Narendra, chairman and managing director of Indian Overseas Bank.
With peak festival season around the corner, demand for loans is expected to go up and banks would be able to disburse loans at the lower rate if RBI cuts rate, he said.
Meanwhile, a report by Bank of America Merill Lynch said, "We expect a relaxation in Liquidity Adjustment Facility (LAF) limit to 1 per cent from the current 0.5 per cent."
Some analysts are also expecting relaxation in meeting the daily cash reserve ratio requirement and a possible reduction in the MSF to two percentage point above the repo rate, which stands at 7.25 per cent.
India Inc, however, has said that it is looking forward to "out-of-the-box solutions" from new RBI Governor in the monetary policy review.
(Read: India Inc wants 'out-of-box' solution from Raghuram Rajan)
"Given that growth in the economy is at a low point, business confidence is weak and the investment cycle has come to a grinding halt, we expect the new RBI governor to initiate measures that would enthuse the market participants, boost investor sentiment and bring confidence back in the economy," said Sidharth Birla, senior vice president of industry body Ficci.
"The RBI will sound hawkish tomorrow with focus on inflation," Saugata Bhattacharya, chief economist at Axis Bank, said.
The country's headline inflation accelerated to a 6-month high at 6.1 per cent in August, while retail inflation continued to hover around the double-digit mark.
Raghuram Rajan, 50, former chief economist with IMF who famously predicted the 2008 financial crisis, took over the reins at the Reserve Bank amidst a series of gloomy events - the falling rupee and the GDP growth number coming in at a four-year low for the April-June quarter.
In his first statement after taking charge, Mr Rajan announced a slew of measures, including a timeline for issuing new bank licenses and a window to offer a swap at a concessional rate to banks for FCNR-B deposits, which have improved investor sentiment.