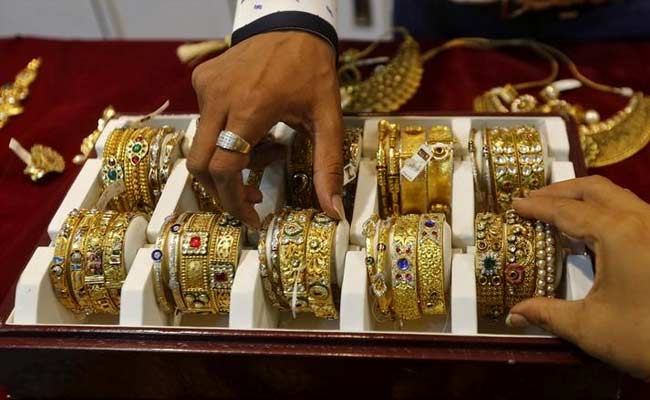 Highlights
Akshaya Tritiya is considered quite sacred festival for buying gold
Women are tempted to buy unique jewellery to make style statement
Oversized earrings have made comeback this year
Modern women these days are drawing towards unique jewellery pieces in a bid to create a fashion statement. Depending on the budget one has, one can buy pure gold or gold-plated jewellery pieces such as a choker necklace or vibrant bracelets, especially during the occasion of Akshaya Tritiya, suggest experts including Sunil Nayak, CEO at Reliance Jewels, Garima Singh, co-founder at blingvine.com and Suptotthita Neogi, co-founder at Ornativa. Akshaya Tritiya is considered quite fortunate and sacred festival, carrying good luck and triumph in terms of new schemes, weddings, big investments such as buying property or gold and any new beginning.gold and any new beginning.
This Akshay Tritiya, one can choose between the following to make a style statement: Team Up Choker necklace With Traditional Attire:
Choker necklace makes a comeback in the fashion industry and are liked by many women to team up with their traditional attires. Many brides and bridesmaid are opting for choker sets to enhance their look. It goes well with lehengas and Banarasi saris.
Statement pieces For Modern Twist:
The variety of accessorising materials like coloured stones, crystals, kundan and mother of pearl give any piece of jewellery a modern twist and design. In addition, these elements help women in choosing a perfect jewellery piece to go well with their ethnic or western outfit.
Floral Fiesta For Nature Loving People:
If you like flowers, colours and spring, then floral motifs are for you. They are in huge demand this season.
Vibrant bracelets For The Bold Ones:
The cuff is is for those women who have an innate love for bold and classy pieces. Bracelets can be teamed up with formal attire or with an elegant sari.
Oversized earrings:
They
have made one of the biggest comebacks this year. Antique kundan and traditionally styled earrings are among the top choices and will continue to trend throughout the year.
Nature-inspired motifs with elements of leaves, flowers, and swan shaped pendants are taking over the jewellery market and with good reason. These pieces are an expression of elegance and grace, and a single statement necklace with such elements can be worn, both during the day as well as night.
Diamond jewellery: Diamond jewellery is all about making a statement. Gold bracelets with just the right amount of diamonds are liked for their functionality, as well as elegant beauty. A simple gold band, studded with diamonds can easily add a touch of glamour to any outfit and can be worn for all occasions.
Statement Rings:
Gift yourself a ring with polki work, multi-coloured stones or one with intricate designs
At the same time, Venkatesh S, lead designer at BlueStone.com, enlists some of the most prominent trends that one can expect in the months to come.
Bold statement jewellery:
It is the most prominent trend especially so far as earrings and choker neck pieces are concerned.
Trapped and protected gemstones trend:
Typically, gemstones are set in jewellery using traditional setting styles such as prongs. This year, the industry redefines gemstone settings in jewellery by using a halo of precious colourtones and mesh to hold the gemstones within the piece. An innovation in jewellery that challenges the classics.
Bold statement jewellery incorporating discs:
Statement studs and eardrops, and choker neckpieces incorporating discs in various sizes and metals such as gold and rose gold, are likely to be the hottest interpretation of this trend, straight off the runway!
Frills and Ruffles:
The hottest trend in apparel will be translated to jewellery as well. This trend does not necessarily translate to huge pieces. Subtle but powerful ruffle jewellery pieces can make as big a statement as huge pieces.
Farah Khan Ali, CEO, creative director, Farah Khan Fine Jewellery says there will be juxtaposing of colour this season. "Fascination for colours is stronger ever. We predict an exotic style of bringing eclectic palette together with interesting silhouettes," said she.
(With IANS inputs)