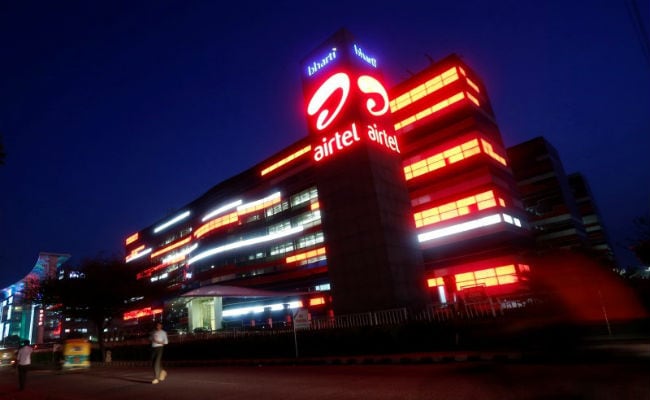 Bharti Airtel, India's biggest telecom operator, has introduced several new recharge packs for prepaid mobile subscribers ranging from Rs 8 to Rs 399 in recent days. Telecom operators, including Airtel, have been coming up with new aggressive plans to counter Jio, which has amassed over 12 crore subscribers in a short period of time. Jio brought a pricing revolution in the telecom industry through its ultra-low cost data and free voice call offerings. The launch of JioPhone, a 4G feature phone from Jio, could lead to further price war and may prompt other operators to come up with low-cost handsets, say analysts.
Here is a glance of prepaid Airtel plans:


Airtel 399 plan: This plan offers 1 GB data per day at 4G speed along with unlimited local and STD calls. This plan is targeted to counter Jio's Rs 399 plan which also offers unlimited local and STD calls along with 1 GB data per day for 84 days. However, the Rs 399 recharge plan of Airtel is being offered to select prepaid customers. Before recharge, you need to first check with the customer care, whether the plan is available on your number.

Airtel 349 plan: Airtel is offering unlimited local and STD calls plus 28 GB data (1GB/day) for 28 days under this plan.

Airtel 149 plan: This plan of Airtel offers unlimited Airtel to Airtel calls plus 2GB data at 4G speed with 28 days validity.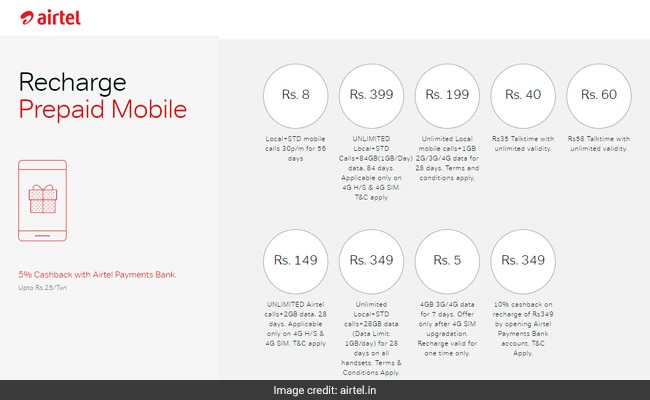 (A screengrab of available prepaid Airtel plans)
VS

(A snapshot of all prepaid Jio plans)
Here are some other plans of Airtel

Rs. 8 plan: Local+STD mobile calls 30piase/minute for 56 days

Rs. 40 plan: Rs. 35 talk time with unlimited validity.

Rs. 60 plan: Rs. 58 talk time with unlimited validity.


Rs. 5 plan: 4GB 3G/4G data for 7 days. Offer valid only after 4G SIM upgradation and for one-time recharge only.
Rs. 199 plan: Unlimited local mobile calls plus 1GB 2G/3G/4G data for 28 days.
Rs. 349 plan offer: 10% cashback on recharge of Rs349 by opening Airtel Payments Bank account.
Airtel's profit and margins have dwindled in recent quarters after Jio commenced its services in last September. In the April-June quarter this year, Airtel reported 75 per cent decline in its net profit at Rs 367 crore compared to Rs 1,462 crore in the year-ago quarter. Analysts say this competitive environment is likely to persist in the telecom industry in the future as the new entrant Jio is likely to maintain aggressive pricing to gain market share.