India's biggest telecom operator Airtel has introduced a Rs 399 recharge pack for prepaid subscribers, offering unlimited local and STD calls, 1 GB data per day for 84 days at 4G speed. This offer is similar to Reliance Jio's Rs 399 plan. Jio launched two new plans -Rs 399 and Rs 349 -in July. Jio offers unlimited local and STD calls along with 20 GB data for 56 days under its Rs 349 plan and unlimited local and STD calls along with 1 GB data per day for 84 days under its Rs 399 plan. Reliance Jio's aggressive plans has forced other operators to come up with new offers to protect their market share. However, the Rs 399 recharge pack of Airtel is not available for all customers. You have to check with the customer care regarding the availability of this recharge pack on your number.

Airtel has also launched some other plans to counter Jio's other recharge packs. Airtel's Rs 149 plan offers unlimited Airtel to Airtel calls plus 2GB data at 4G speed with 28 days validity.


Similarly, Airtel has also launched some other plans ranging from Rs 8 to Rs 399: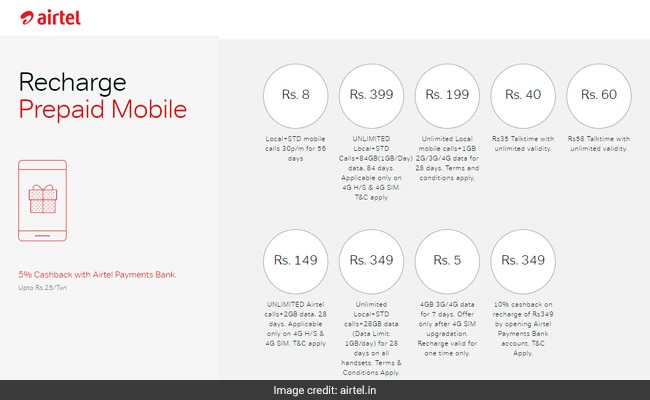 Rs 8 plan: Local+STD mobile calls 30piase/minute for 56 days
Rs 40 plan: Rs 35 talk time with unlimited validity.
Rs 60 plan: Rs 58 talk time with unlimited validity.
Rs 5 plan: 4GB 3G/4G data for 7 days. Offer valid only after 4G SIM upgradation and for one time recharge only.
Rs 199 plan: Unlimited local mobile calls plus 1GB 2G/3G/4G data for 28 days.
Rs. 349 plan: Unlimited Local plus STD calls along with 28GB data (1GB/day) for 28 days on all handsets. Rs. 349 plan: 10% cashback on recharge of Rs349 by opening Airtel Payments Bank account.
Incumbent telecom players are under tremendous pressure to protect their market shares amid Reliance Jio's aggressively prices data plans. The Mukesh Ambani-led customer has already acquired over 12 crore mobile subscribers since the launch of its 4G services in last September, according to the latest data from telecom regulator. Now, it plans to acquire a bigger chunk of the mobile voice-only market with the launch of its JioPhone, a low cost 4G feature phone. Some analysts expect other operators to also come up with low-cost handsets capable of handling basic data services.
Get Breaking news, live coverage, and Latest News from India and around the world on NDTV.com. Catch all the Live TV action on NDTV 24x7 and NDTV India. Like us on Facebook or follow us on Twitter and Instagram for latest news and live news updates.