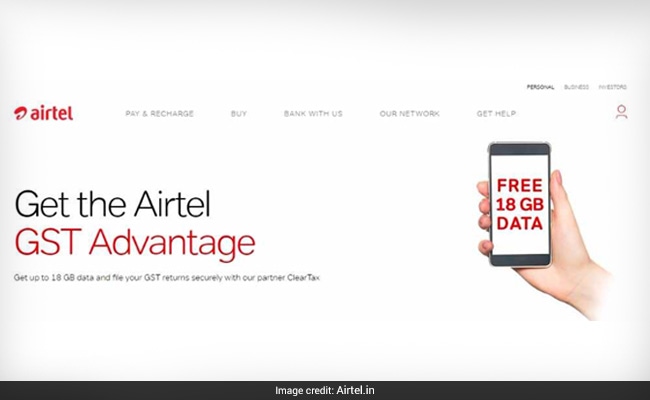 Telecom services provider Bharti Airtel has launched a solution, called GST Advantage, which has been specifically designed to enable small businesses and start-ups to file their GST returns. Launched in partnership with ClearTax, Airtel GST Advantage has been offered free to all existing Airtel Business customers, who simply need to register on www.airtel.in/gst-advantage. Airtel will be providing free data up to 18 GB spread over three months for small businesses and start-ups which have to file Goods and Services Tax (GST) returns through this platform, the company said on Thursday. Customers will be allowed to use 2GB data per month per connection on a maximum of three devices.
"The new GST regime is a landmark reform for the Indian economy and with Airtel GST Advantage, we would like to enable small businesses with free filing of returns, and free and secure data access," said Ashok Ganapathy, Director and CEO – Airtel Business, the B2B arm of Bharti Airtel.
Airtel has also incorporated a helpdesk through which experts will clear all queries of customers on the filing of GST returns, on weekdays between 8 am and 8 pm. Customers can also seek knowledge on GST through the website, according to an official release.
Archit Gupta, CEO of ClearTax said: "We are excited to partner with Airtel. Since the launch of GST, we have been working hard to help businesses and tax professionals become GST-ready and make compliance easier in the new tax regime.
As many as six lakh more businesses
have filed returns and paid taxes in the last one week, taking maiden revenue collections from GST to about Rs 94,700 crore , news agency Press Trust of India reported. Finance Minister Arun Jaitley had last week stated that 38.38 lakh businesses had filed their returns and paid Rs 92,283 crore in taxes for the month of July - the first month of implementation of independent India's biggest tax reform, the GST. Since then the number of returns filed has gone up to 44 lakh and over Rs 2,500 crore more has come in as taxes, PTI reported quoting a top official.