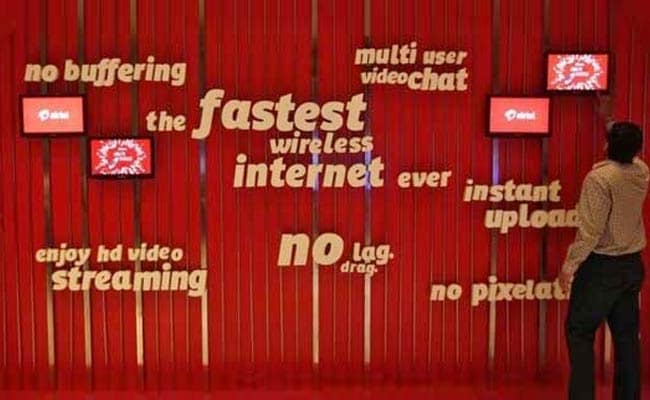 Highlights
Airtel will offer "unlimited" mobile calls at Rs 1,199 per month
Unlimited calls include local, STD and national roaming
Airtel's plan comes ahead of the commercial launch of Reliance Jio
Bharti Airtel on Friday announced a new plan, which will enable its customers to avail "unlimited" mobile calls at Rs 1,199 per month. India's biggest mobile operator said customers will be able to enjoy "unlimited" local, STD and national roaming as well as bundled SMS/data under its new postpaid plan.
Bharti Airtel's aggressive new plan comes ahead of the commercial launch of Reliance Jio's fourth-generation wireless services. Reliance Jio has started taking registrations from interested people for network trials, signalling that a launch may be around the corner.
Jio also slashed the price of its LYF handsets by 25 per cent to Rs 2,999 recently. The LYF handset comes bundled with free Jio SIMs, which offer 90 days of free unlimited 4G mobile internet and voice calling.
Analysts expect billionaire Mukesh Ambani's telecom venture to launch its 4G voice and high-speed data services in the next three months.
"Several indicators suggest a strong possibility of commercial launch of Jio's services within the next three months ahead of festive season in October... Jio may already be handling the second-highest data traffic among all telecom operators and could ramp up close to the highest even before launch,"
said global brokerage CLSA last month
.
Reliance Industries has invested about Rs 1.5 lakh crore on building what will be India's biggest 4G network. Its Jio unit currently has 1.5 million users including the group's employees and others testing the network.
Investors as well as rivals in the telecom industry are keenly waiting for the services to be launched as Reliance seeks to reshape the domestic telecom market with low-priced offerings. The company, which bought its first airwaves in 2010, had been due to launch the services commercially in December last year.
"The test program will be progressively upgraded into commercial operations in coming months," Reliance said in a statement last month.
Industry watchers say that Jio, which has already onboarded over 15 lakh customers in the trial launch stage, may offer high-speed data at very low price or may bundle free voice calls to lure users in the world's second-largest smartphone market.
Confronted by the looming threat, mobile services companies have been announcing an effective reduction in mobile internet rates by packing in extra data for the same price. Bharti Airtel, Vodafone and Idea Cellular, have all opened new frontiers in data services war to take on Reliance Jio.
Bharti Airtel shares, which have underperformed the broader Sensex in last three months, closed 0.6 per cent lower at Rs 363.20 today. In contrast, the Sensex ended with 1.3 per cent gains.
(With agency inputs)