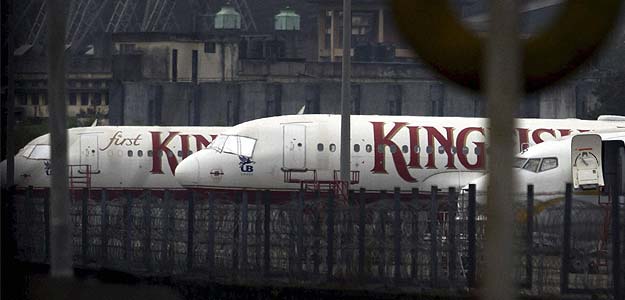 The Airports Authority of India (AAI), the nodal agency which manages the country's airports, will follow the Civil Aviation Ministry's directive on releasing Kingfisher Airlines' leased aircraft.
The Civil Aviation Ministry is yet to take a call on releasing the aircraft to leasing companies and the matter is under consideration.
V.P. Agrawal, chairman of AAI, said India will also have to honour the international convention for releasing captive aircraft.
The head of aircraft finance giant International Lease Finance Corp (ILFC) urged India on Wednesday to release six passenger jets held "hostage" by a bureaucratic dispute after struggling Kingfisher Airlines failed to pay for them.
The ILFC had warned in January that a failure to return leased airplanes to their true owners when airlines cannot pay their bills could put the country's aviation growth at risk by scaring off funding.
According to the Los Angeles-based ILFC, the Delhi High Court ruled last month that ILFC could have access to its aircraft to ensure they can be refurbished and maintained.
But ILFC chief executive Henri Courpron told Reuters that the situation on the ground remained unresolved.
"We have made legal and political progress but people are not following instructions from the government," Mr Courpron said in a telephone interview. "We have to stop this hostage situation."
He did not say which Indian authorities or people he held responsible for failing to apply the court's decision.
Ultimately, ILFC wants to fly the Airbus aircraft out of India to allow them to be used by other operators. But that would require the consent of Indian authorities.
For now, the planes are sitting idle in Delhi, Mumbai and Chennai.
Kingfisher's financial difficulties have left the airline's fleet grounded since October.
Germany's DVB Bank said in December it had sued India's aviation regulator and Kingfisher to have two planes it financed for the troubled carrier de-registered, a possible first step toward recouping its funds.
The two disputes are seen as an important test of an international agreement known as the Cape Town convention, designed to make it more attractive for leasing companies to invest by duplicating repossession rights available in the United States when airlines default on lease payments.
With inputs from Reuters