AirAsia
is offering overseas flight tickets at a starting all-inclusive price of Rs 3,900 on select routes under a promotional '3 days of March mad deals' sale. AirAsia's offer is valid on travel till August 31, 2018 and bookings are open till March 1, 2018, according to the airline's website-airasia.com. Under this promotional sale, AirAsia is offering discounted tickets on flights flying from Jaipur to destinations such as Kuala Lumpur, Bali, among others. AirAsia's promotional sale requires flyers to make advance bookings, AirAsia further added on its website. In another offer,
AirAsia India
is also offering domestic flight tickets at at a starting all-inclusive price of Rs. 1,249.
A search on the AirAsia bookings portal showed one-way flights from Jaipur to Kuala Lumpur in March were being offered under Rs 4,000.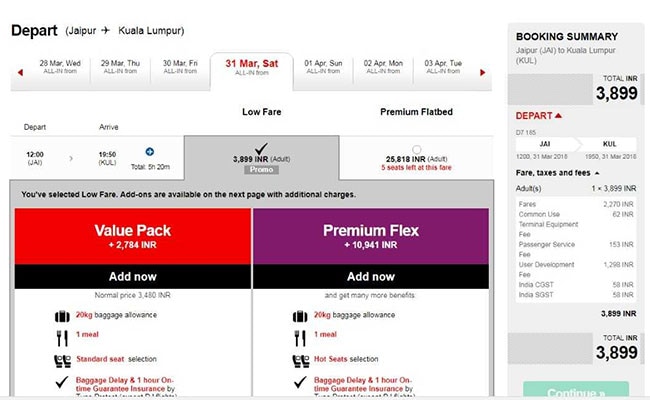 Some of the other discounted all-inclusive fares offered under AirAsia's sale are on flights from Mumbai to Bali (starting at Rs 6,900), among others. AirAsia is also offering connecting flights overseas from India through Kuala Lumpur. These flights include Kochi-Kuala Lumpur-Hangzhou ( starting at Rs 11,419), Kolkata-Kuala Lumpur-Perth (starting at Rs 13,050), Hyderabad-Kuala Lumpur-Wuhan (starting at Rs 12,656), Jaipur-Kuala Lumpur-Brunei (starting at Rs 7,766), New Delhi-Kuala Lumpur-Bandung (starting at Rs 9,516), Tiruchirappalli-Kuala Lumpur-Wuhan (starting at Rs 11,057), Bengaluru-Kuala Lumpur-Wuhan (starting at Rs 11,957), Kochi-Kuala Lumpur-Jeju (starting at Rs 11,056), and many more. AirAsia is also offering a premium flatbed flight from Mumbai to Bali at a starting price of Rs 15,900 under this offer.
5 Terms and conditions of AirAsia's sale:
1. The discounted tickets are available only for online bookings at www.airasia.com, said AirAsia.
2. A non-refundable processing fee is applicable for payments via credit, debit or charge card, according to AirAsia.
3. Seats are limited and may not be available on all flights, noted AirAsia.
4. All fares are quoted for single journey (one-way) only.
5. Offer is subject to availability and 'AirAsia's Terms and Conditions of Carriage'.
Get Breaking news, live coverage, and Latest News from India and around the world on NDTV.com. Catch all the Live TV action on NDTV 24x7 and NDTV India. Like us on Facebook or follow us on Twitter and Instagram for latest news and live news updates.