AirAsia India is offering domestic flight tickets at a starting all-inclusive price of Rs 799 on select routes under its '
Big Sale
' offer. Bookings for AirAsia India's discount offer on domestic flight tickets is open till March 11, 2018. The travel period for availing AirAsia India's offer starts on September 3, 2018, and ends on May 28, 2019, according to the airline's website (airasia.com). AirAsia India's new promotional sale offer requires flyers to make advance bookings, AirAsia added on its website.
"It's time for BIG SALE! Book now & Save more! #BeatTheBudget on our Domestic Network", said AirAsia India. AirAsia India is offering domestic flight tickets at a starting price of Rs 799 on one-way flights from Bhubaneshwar to Kolkata, from Bhubaneshwar to Ranchi, from Ranchi to Kolkata, from Kochi to Bengaluru, from Ranchi to Bhubaneshwar, from Guwahati to Imphal, from Bagdogra to Kolkata, from Imphal to Guwahati and from Chennai to Bengaluru. A search on AirAsia India portal showed one-way flights from Bhubaneswar to Ranchi in September were being offered at Rs 799.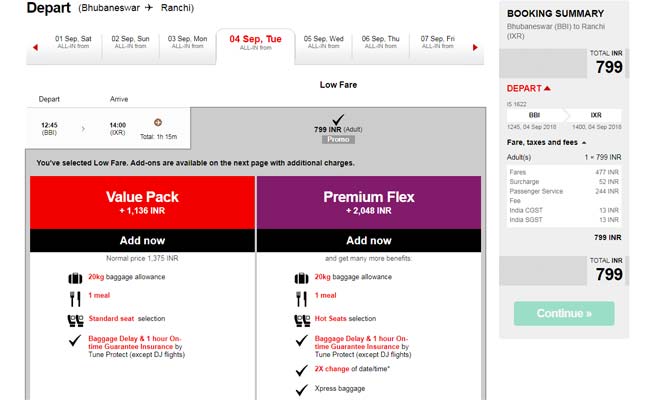 Some of the other domestic discounted all-inclusive fares offered under AirAsia India's 'Big Sale' offer are on flights from Kolkata to Ranchi (starting at Rs 1,099), from Kolkata to Bhubaneshwar (starting at Rs 1,299), from Goa to Bengaluru (starting at Rs 1,099), and from Hyderabad to Bengaluru (starting at Rs 1,099), and many more.
5 Terms and conditions of AirAsia India's 'Big Sale' offer:
1.The discounted tickets are available only for online bookings at www.airasia.com.
2. Ticket fares includes airport taxes (except for selected airports where airport tax is collected at the point of departure), AirAsia India said on it's website.
3. Seats are limited and may not be available on all flights, AirAsia India noted on its website.
4. All fares are quoted for single journey (one-way) only.
5. Offer is subject to availability and 'AirAsia's Terms and Conditions of Carriage'.