AirAsia India is offering all-inclusive tickets starting at Rs 1,299 on select flights. The discounts are part of a limited-period promotional scheme run by the airline, according to its website. AirAsia India said the offer requires flyers to make advance bookings. Bookings under the promotional offer - applicable on travel till April 30, 2018 - can be made till November 5, 2017, AirAsia India further said on the website. "All fares are quoted for single journey (one-way) only," AirAsia India noted.

Here are five things to know about AirAsia's promotional sale offering tickets from Rs 1,299:
Fares
AirAsia India said "a non-refundable processing fee is applicable for payments via credit, debit or charge card".
How to book
AirAsia India said the fares under the promotional scheme are only available for online bookings at www.airasia.com.

Number of seats
Without divulging the total number of seats offered under the discount scheme, the airline said seats are limited and may not be available on all flights.
Lowest fares under AirAsia promotional scheme
According to the AirAsia website, the lowest all-inclusive fares offered under the scheme were Rs 1,299 (on the Bhubaneswar-Kolkata route), Rs 1,399 (on the Kochi-Bengaluru, Hyderabad-Bengaluru and Goa-Bengaluru routes) and Rs 1,490 (Bhubaneswar-Ranchi).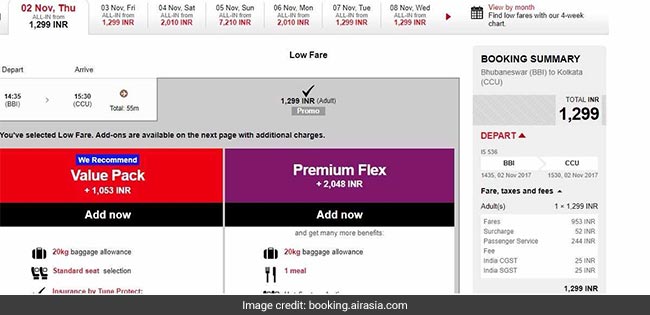 (A search on the AirAsia India bookings portal showed tickets for flights from Bhubaneswar to Kolkata this month were available at Rs 1,299)
How to avail
AirAsia said the fares are valid for new purchases only and "not available during the embargo period".
"All taxes must be paid at the time of purchase unless otherwise stated," the airline added.
Some other discounted fares offered under the scheme were Rs 1,499 (Guwahati-Imphal), Rs 1,899 (Ranchi-Kolkata), and Rs 1,999 (Kolkata-Bagdogra, Goa-Hyderabad, Pune-Bengaluru and Visakhapatnam-Bengaluru), according to the AirAsia website.
Many airlines have been coming up with discounted fares to lure flyers. Indian aviation market is among the fastest growing in the world. Airlines operating in the Indian market carried 849.94 lakh passengers during January-September 2017 as against 726.98 lakh in the corresponding period the previous year - registering a growth of 16.91 per cent.
Another airline
IndiGo is offering fares starting at Rs 1,120
on the Chennai-Bengaluru route. IndiGo is also offering starting fares below Rs 1,200 on several routes. Some of these include Jammu-Srinagar, Delhi-Jaipur and Imphal-Guwahati.
Get Breaking news, live coverage, and Latest News from India and around the world on NDTV.com. Catch all the Live TV action on NDTV 24x7 and NDTV India. Like us on Facebook or follow us on Twitter and Instagram for latest news and live news updates.