AirAsia India was offering flight tickets starting at Rs 1,300 on the Chennai-Bengaluru route. Some flights operated by AirAsia India from Bengaluru to Chennai as well as those from Chennai to Bengaluru later this month were available for booking at Rs 1,300, according to the airline's website - airasia.com. The all-included flight ticket priced at Rs 1,300 included fares of Rs 696 and GST of Rs 28, according to the AirAsia bookings portal. Also, AirAsia India is offering tickets starting at Rs 1,499 on select routes in a limited-period promotional scheme. This offer by AirAsia India requires flyers to make advance bookings. Called "BeatTheBudget", AirAsia India's this scheme is applicable on travel till July 31, 2018. Bookings for AirAsia India's BeatTheBudget scheme are open till February 18, 2018, according to the airline's website.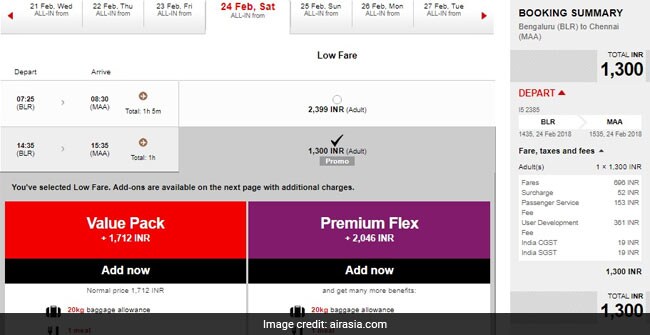 Here are five things to know about AirAsia India's BeatTheBudget offer:
1. AirAsia India is offering flight tickets starting at Rs 1,499 on the Bengaluru-Chennai route, according to its website. Among other fares, AirAsia is offering tickets starting at Rs 1,699 on flights between Bhubaneswar and Kolkata, between Ranchi and Bhubaneswar, between Ranchi and Kolkata , between Kochi and Bengaluru, and between Hyderabad and Bengaluru.
2.
Bookings
: Bookings under the promotional scheme, AirAsia India said on its website, are open till February 18, 2018. The fares are only available for online bookings at www.airasia.com, the airline noted.
3.
Seats
: Without divulging the total number of seats offered under its BeatTheBudget offer, AirAsia India said: "Seats are limited and may not be available on all flights."
4.
Fares
: AirAsia India said the fare includes airport taxes (except for selected airports where airport tax is collected at the point of departure). "A non-refundable processing fee is applicable for payments via credit, debit or charge card," the airline mentioned. The fares are quoted for "single journey (one-way) only", AirAsia India added.
5. Changes to flights and dates are permitted subject to change fees, AirAsia India noted.
Discounts on flight tickets by AirAsia India come at a time airlines operating in the domestic civil aviation market are seeing aggressive competition amid robust growth in passenger traffic witnessed over the past few months.
Find LIVE Budget 2019, updates, latest news, videos, key highlights, reactions, tax and policy changes here. Like us on Facebook or follow us on Twitter for more on Union Budget 2019.