Ahead of the summer holidays, airlines are lining up discounted airfares and lucrative schemes to attract bookings. Airlines including SpiceJet, GoAir and AirAsia India have lined up airfares under Rs 1,600 and announced deals for potential flyers. Discounted flight tickets come at a time of high competition among airlines operating in the Indian civil aviation market. Robust growth in passenger traffic continues to keep the airlines in a high competition mode, say analysts. Bookings also increase ahead of the summer vacations in schools, they add.
Here are some of the ongoing deals offered on domestic flights by AirAsia India, SpiceJet and GoAir:
AirAsia India Rs 1,399 flight tickets and new routes
AirAsia India is offering tickets starting at Rs 1,399 on one-way flights to select destinations including Nagpur, Chennai, Ranchi, Indore, Guwahati and Bhubaneswar, according to the airline's website - airasia.com. The offer is applicable on travel till September 30, 2018 and bookings are open till April 15, 2018, according to the carrier. The lowest all-inclusive fare offered under the scheme is Rs 1,399. The fare is being offered on the Bhubaneswar-Kolkata, Ranchi-Kolkata, Kochi-Bengaluru, Guwahati-Imphal, Hyderabad-Bengaluru and Bengaluru-Chennai routes, according to the AirAsia website. The offer is available only on online bookings at www.airasia.com and "seats are limited and may not be available on all flights", the airline mentioned on its website.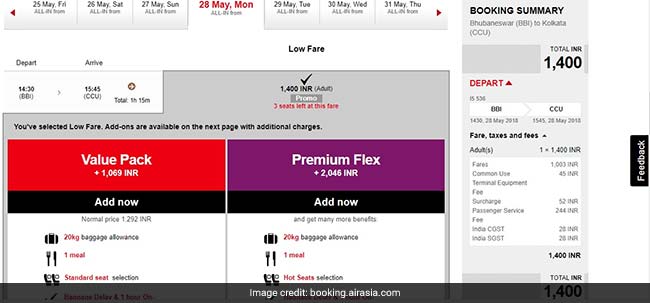 A search on the AirAsia bookings portal showed tickets for flights from Bhubaneswar to Kolkata in May-end were available at Rs 1,400.
AirAsia India has announced introduction of new daily flights from Kolkata to Visakhapatnam, Guwahati, Imphal and Pune. The airline is offering tickets at a starting all-inclusive price of Rs 1,699 on these routes. Bookings for this AirAsia India offer - applicable on travel till May 30, 2018 - are open till April 15, 2018, according to the airline's website. The airline is scheduled to commence new flights from May 11, 2018.
GoAir Rs 1,566 flight tickets
GoAir is offering flight tickets starting at Rs. 1,566 on select routes under a limited-period scheme. The airline offering one-way flight tickets to destinations including Delhi, Goa, Mumbai and Bengaluru, with starting airfares ranging from Rs. 1,566 to Rs. 4,048, according to the airline's website - goair.in. GoAir time and again announces discounts under its 'Low Fare Wednesday' series of offers, which usually open for bookings on Wednesdays. Among other routes, GoAir flight tickets for a journey from Lucknow to Delhi are priced from Rs. 1,566, according to the GoAir website. The airline mentioned that the fares are valid across select fare types and only limited seats are on offer under the scheme.

A search on the GoAir bookings portal on Thursday showed tickets for a flight from Lucknow to Delhi next week were available at Rs 1,566.
SpiceJet zero convenience fee offer
SpiceJet has waived off convenience fee for bookings made online, through its website or mobile app. This offer, wherein travelers can book their flight tickets from the airline's website - spicejet.com - or mobile app, is valid till April 30, according to SpiceJet. The airline is also offering a 20 per cent discount on pre-booking of add-on services such as preferred seats. To avail this offer, customers are required to apply promo code 'ADDON20', according to the SpiceJet website.
Domestic airlines carried 222.09 lakh passengers in January-February this year, as against 182.34 lakh in the corresponding period a year ago, a year-on-year growth of 21.8 per cent, data from aviation regulator DGCA (Directorate General of Civil Aviation) showed.
Get Breaking news, live coverage, and Latest News from India and around the world on NDTV.com. Catch all the Live TV action on NDTV 24x7 and NDTV India. Like us on Facebook or follow us on Twitter and Instagram for latest news and live news updates.