AirAsia India is offering tickets starting at an all-inclusive Rs 1,299 on select routes. In a limited-period promotional scheme, AirAsia India's latest offer requires flyers to make advance bookings, the airline said on its website - airasia.com. AirAsia's discounted fares come at a time the Indian aviation market is flying high with strong growth rates. The lowest starting fare of Rs 1,299 is being offered on the Bhubaneswar-Kolkata route, according to the AirAsia website. The offer is applicable on travel from November 6, 2017 to April 30, 2018. Bookings under the scheme can be made till November 12, 2017, AirAsia India added on its website.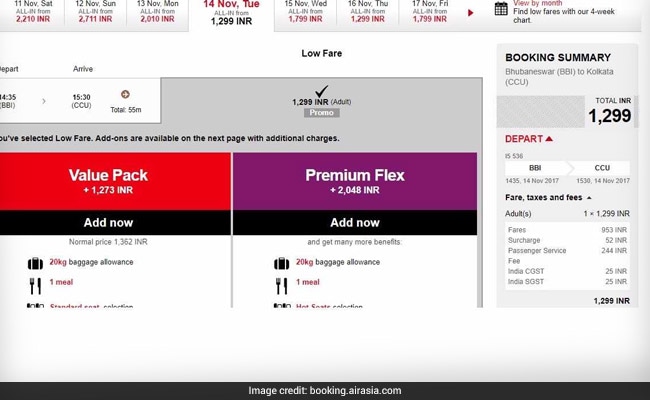 A search on the AirAsia's bookings portal on Monday showed tickets for flights from Bhubaneswar to Kolkata later this month were available for booking starting at Rs 1,299.

The AirAsia scheme is valid for fares of one-way flights. Without divulging the total number of seats offered at discounted fares under the scheme, AirAsia India said: "Seats are limited and may not be available on all flights."

Here are some other things to know about the scheme, as mentioned by AirAsia:
Five things to know about AirAsia flight ticket offer

A non-refundable processing fee is applicable for payments via credit, debit or charge card
Fare includes airport taxes (except for selected airports where airport tax is collected at the point of departure)
All fares are quoted for single journey (one-way) only
All taxes must be paid at the time of purchase unless otherwise stated
Only available for online bookings at www.airasia.com
Domestic flights starting below Rs 1,300

While Rs 1,299 is the lowest all-inclusive price offered under the scheme, some other fares offered include Rs 1,399 (for flights between Kochi and Bengaluru), Rs 1,399 (Bengaluru-Kochi), Rs 1,399 (Hyderabad-Bengaluru), Rs 1,499 (Guwahati-Imphal), Rs 1599 (Bagdogra-Kolkata and Pune-Bengaluru) and Rs 2,999 (New Delhi-Goa), according to the AirAsia website.
Fly international at Rs 2,399

Under the same promotional scheme, AirAsia was offering international flights starting at Rs 2,399. Tickets from Bhubaneswar to Kuala Lumpur started at Rs 2,399 while flights from Mumbai to the Malaysian destination started at Rs 4,990, according to the AirAsia website.


Indian aviation market is among the fastest growing in the world. Many airlines have been offering discounted fares to attract flyers. Airlines operating in the domestic market carried 849.94 lakh passengers in January-September 2017, as against 726.98 lakh in the corresponding period the previous year - a year-on-year growth of 16.91 per cent.
Follow NDTV for latest election news and live coverage of assembly elections 2019 in Maharashtra and Haryana.
Subscribe to our YouTube channel, like us on Facebook or follow us on Twitter and Instagram for latest news and live news updates.