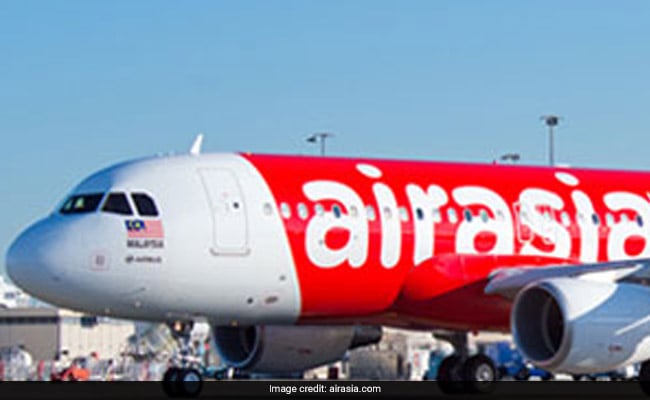 AirAsia India has announced addition of Nagpur and Indore to its domestic network. The airline has introduced new routes connecting Nagpur with Bengaluru and Kolkata, and those connecting Indore with Bengaluru and Goa with flights commencing from March 17, 2018, according to AirAsia India's website - airasia.com. In an promotional scheme, AirAsia India is offering all-inclusive fares starting at Rs 1,999 on the direct daily flights on the new routes. Bookings for these flights, between Bengaluru and Nagpur, between Kolkata and Nagpur, between Indore and Bengaluru, and between Indore and Goa, are open till March 4, 2018, the
AirAsia
website noted.
A search on the AirAsia bookings portal on Thursday showed tickets for a one-way flight from Bengaluru to Nagpur on March 17 was available from Rs 1,999.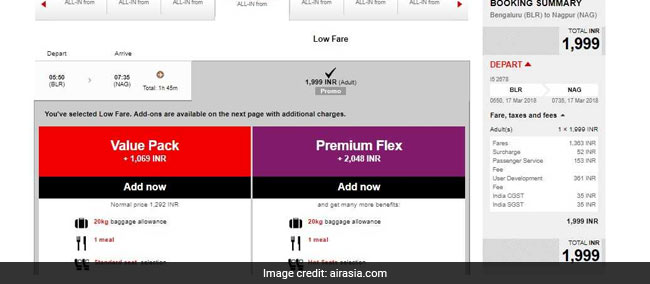 Also, tickets between Indore and Goa were available for booking below Rs 2,500, it showed.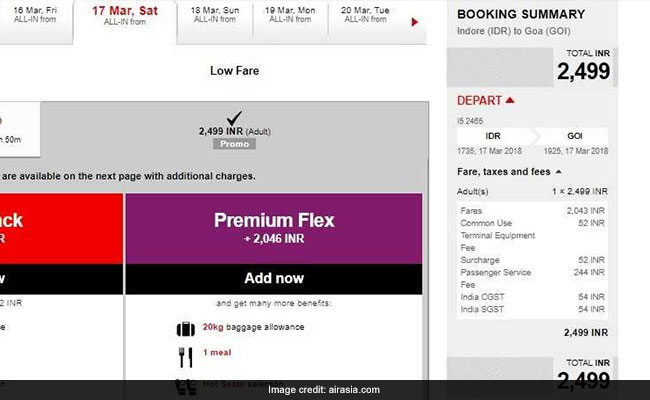 The new direct daily flights from AirAsia come at a time airlines operating in the Indian civil aviation market are witnessing
high competition
amid robust passenger traffic. Domestic airlines carried 114.65 lakh passengers in January as against 95.79 lakh in the corresponding period a year ago, registering a year-on-year growth of 19.69 per cent, data from aviation regulator DGCA showed.
In calendar year 2017, the airlines had carried 1,171.76 lakh passengers, as against 998.88 lakh in the year-ago period - an increase of 17.31 per cent.
Meanwhile,
AirAsia India is also offering flight tickets starting at Rs 1,249
in a separate promotional scheme, called 'BeatTheBudget'. AirAsia India's discounted flight tickets offer is valid on travel till August 31, 2018, and bookings are open till March 4, 2018, according to the airline's website. Under this promotional sale, AirAsia India is offering discounted tickets on domestic flights flying to Bhubaneshwar, Hyderabad, Goa, Chennai and Kochi, among others.
Currently,
AirAsia India flies to 17 destinations
with its hubs in Bengaluru, New Delhi and Kolkata covering Kochi, Goa, Jaipur, Chandigarh, Pune, Guwahati, Imphal, Visakhapatnam, Hyderabad, Srinagar, Bagdogra, Ranchi, Bhubaneswar and Chennai, according to a report by news agency Indo-Asian News Service (IANS).