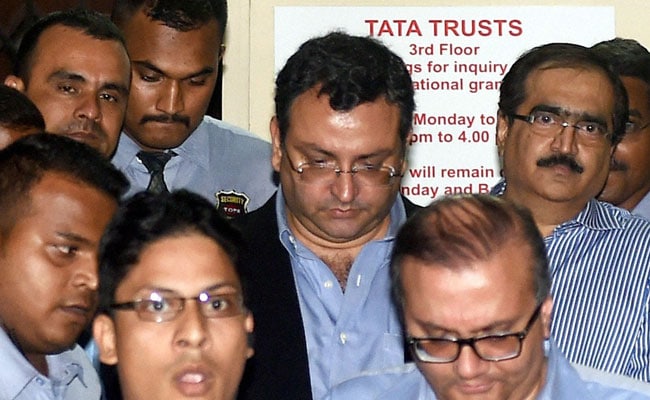 Highlights
Exchanges asked Tata companies to clarify about their financial status
Some companies have already submitted their reply to the exchanges
Mr Mistry in a letter warned 5 companies can erode $18 billion of value
The country's two largest stock exchanges have demanded clarity from the Tata group's 27 listed companies after a lengthy email written by former chairman Cyrus Mistry became public, reports news agency Reuters. Markets regulator Sebi too is reportedly looking into these companies.
Here are the 10 latest developments in this story
Tata Steel, one of the companies identified as a "legacy hotspot" by Cyrus Mistry, has told the stock exchanges that it is "in compliance with rules and that the financial statements of the company present a true and fair view of the state of the affairs." Tata Teleservices and Indian Hotels have sent similar replies.

Mr Mistry, 48, was suddenly removed on Monday as top boss of the $103 billion Tata group and replaced by its 78-year-old patriarch, Ratan Tata.

Though Cyrus Mistry's office has said he does not plan for now to challenge his ouster, he has, in his email to the board members on Tuesday, said his removal was illegal.

He shortlisted five companies that he said threaten to erode about $18 billion of value. Mr Mistry also alleged corporate misgovernance and a financial misrepresentation of the impact of hefty acquisitions.

Tata Sons in a statement on Thursday strongly rebutted the allegations, saying the claims in it were "unsubstantiated" and "malicious" and went against corporate governance practice.

Most of the Tata group shares were under pressure for the third day. Among the major losers, Tata Teleservices and Indian Hotels slumped 10 per cent and 4 per cent respectively, while Tata Power, Tata Steel and Tata Motors fell between 0.4 per cent and 2 per cent today.

In his five-page email which states that "I cannot believe I was removed on grounds of non-performance," Mr Mistry says that Mr Tata, who he replaced in late 2012 and who is now helming the group again, has a conflict of interest which has prevented the closure of the loss-making Nano cheap passenger car venture. "Another challenge in shutting down Nano is that it would stop the supply of Nano gliders to an entity that makes electric cars and in which Mr Tata has a stake," he wrote.

Mr Tata's lawyer, Abhishek Manu Singhvi, told NDTV yesterday that Mr Mistry's allegations are baseless and that his removal was based on "economic, moral, propriety" factors. Mr Singhvi also said that the entire board, not just Mr Tata, had lost confidence in Mr Mistry, which is why the majority of the nine members moved to sack him. "Does Mr Mistry think the entire eminent board insane? They all lost confidence in him," said Mr Singhvi.

Mr Mistry's decision to sell acquisitions by Mr Tata during his earlier term as chairman has reportedly upset the board, especially the move to unload the group's entire UK steel operation.

Mr Mistry has described a telecom deal struck with Japanese firm DoCoMo as poorly conceived. The Tatas have been ordered by an international arbitration court to pay $1.2 billion to DoCoMo after a bitter break-up.