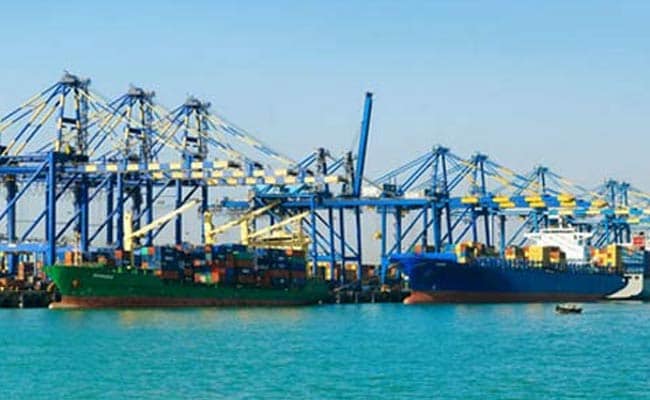 Port-to-energy conglomerate Adani Ports and Special Economic Zones or APSEZ reported a 285 per cent growth - a quadruple jump in net profit at Rs 1,287.81 crore in the January-March quarter of the financial year 2020-21, compared to Rs 334.39 in the corresponding quarter last year. The country's largest private multi-port operator reported a 24 per cent rise in the operating revenue to Rs 3,607.90 crore in the March quarter, compared to Rs 2,921.19 crore in the same quarter last year. (Also Read: Adani Ports Says Could Abandon Myanmar Project )
According to a regulatory filing by the company to the BSE today, Adani Ports handled the highest ever container volume of 7.2 million twenty-foot equivalent units (TEU) throughout the year. It achieved a market share of 41 per cent and registered a gain of five per cent. The Mundra port continues to be the largest container handling port in the country. The Mundra port handled 5.66 million twenty-foot equivalent units, which is around one million twenty-foot equivalent units more than the Jawaharlal Nehru Port Trust.
According to the multinational conglomerate, the surge in container growth is attributed to the strategy of partnering with the top global ship liners through joint ventures and the acquisition of container handling ports such as Ennore and Krishnapatnam. (Also Read: Adani Ports Is Now Sole Owner Of Krishnapatnam Port in Andhra Pradesh )
Adani Ports will also acquire an 89.6 per cent stake in the Gagavaram Port located in Visakhapatnam, Andhra Pradesh, and the acquisition is expected to be completed by the third quarter of the current financial year. The government's competition regulatory body - the Competition Commission of India, had approved the acquisition of 89.6 per cent equity shareholding in the Gangavaram Port Limited by Adani Ports in April 2021. (Also Read: Adani Ports Gets Approval To Acquire 89.6% Stake In Gangavaram Port )

According to the company's filing to the stock exchanges, the board recommended a dividend of 250 per cent, or Rs 5 per equity share of Rs 2, each completely paid for the financial year 2020-21, subject to the approval of the shareholders. Adani Ports is the country's largest integrated ports and logistics company, located in seven maritime states including Maharashtra, Gujarat, Goa, Andhra Pradesh, Kerala, Odisha, and Tamil Nadu. It represents 24 per cent of the country's total port handing capacity.
(Also Read: Adani Ports To Declare March Quarter Earnings; Stock Edges Higher ) Ahead of declaring its fourth quarter for fiscal 2020-21 results, Adani Ports gained around two per cent during the session today. On Tuesday, shares of Adani Ports and Special Economic Zones settled 0.99 per cent higher at Rs 768.80 apiece on the BSE.