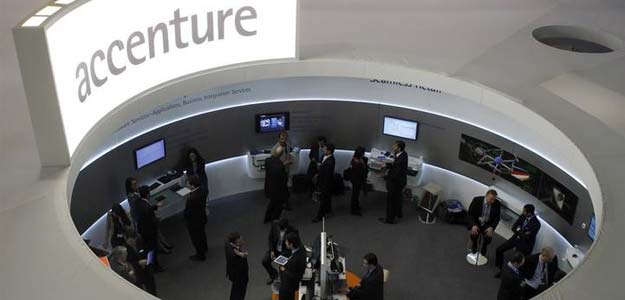 Accenture surprised in its first (November) quarter by reporting better-than-expected revenue growth and raising its 2016 constant currency revenue growth forecast to 6-9 per cent from 5-8 per cent. The development should have lifted domestic IT stocks as Accenture's strong Q1 results comes across as a reflection of rising demand for IT services. However, frontline outsourcers such as Tata Consultancy Services and Infosys came under selling pressure on Friday.

Here's why Accenture's results did not boost domestic IT shares:

1) Accenture's fifth consecutive quarter of double-digit constant currency revenue growth was driven by its consulting business and not outsourcing business, where domestic companies such as TCS and Infosys are strong.

2) Accenture's outsourcing business is expected to grow in mid-single digit over the next year. The big push in Accenture's growth is likely to come from consulting, which accounts for 54 per cent of its overall revenue, and is expected to grow in low-double digits in FY16.

3) Even in outsourcing business, Accenture has managed to gain market share (at the cost of domestic companies) by aggressively hiring in low-cost offshore locations such as India, analysts say. Over 70 per cent of Accenture's 3.73 lakh-strong workforce is based in low-cost locations such as India and Philippines.

"Accenture has grown in strong double digits in the US for the past four years, during which it gained significant market share from traditional competitors and became the market leader. It also gained share in Europe," said brokerage Motilal Oswal in a report.

4) Accenture has taken a lead in digital, which is the fastest-growing and high margin business in the IT space. Digital accounts for most of the incremental IT spending and is flourishing at the cost of traditional IT services such as application maintenance, infrastructure management, etc., which were the major revenue generator for domestic firms.


5) Accenture's digital business, which generated annual revenues of over $7 billion last fiscal, grew by over 20 per cent during the quarter. In contrast, TCS generated around $2 billion from digital in 2014-15 fiscal year, while Infosys and Wipro are estimated to have generated close to $800 million.
6) Accenture, with its better end-to-end capabilities (strategy and consulting to outsourcing services) is better placed than domestic companies in the digital space, analysts say.
"On the consulting side, Accenture is counted along with the 'Big Four'. In downstream IT services piece, it has built a formidable Global Delivery Network back-end which is likely to be as good as or possibly better than that of most India-listed Tier-1 players," says Girish Pai of Nirmal Bang Securities.
7) Accenture has spent over $3 billion to buy over 50 smaller companies over the last 3-4 years to establish its dominance; domestic companies have been much more cautious when it comes to inorganic growth.
8) Unlike Indian outsourcers, Accenture has not reported vertical-specific weakness, except in the energy space, where a crash in global crude prices has had a large impact.
"Problems being faced by Tier-1 India-based vendors like TCS in BFSI (banking, financial services and insurance) and Tech Mahindra in telecom are company-specific and probably related to weaknesses in their capability mix," Nirmal Bang said