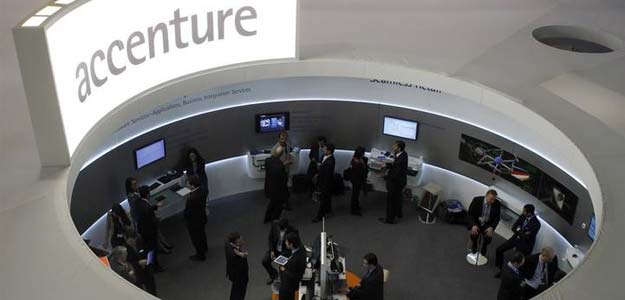 Global IT major Accenture surprised the Street after reporting strong earnings for the quarter ending February 29, led by strong growth in its consulting business, especially in North America. The global IT major reported net revenues of $7.9 billion, an increase of 6 per cent in US dollars, over the same period last year.
Importantly, Accenture, which is incorporated in Ireland but runs out of Chicago, now expects full-year net revenue to increase by 8-10 per cent in local currency terms, up from its previous estimate of 6-9 per cent. That implies revenue of $33.53 billion-$34.15 billion, well above the average analyst estimate of $32.20 billion, according to Reuters.
Domestic brokerage Nirmal Bang however in a report said Accenture's strong performance raises the heat on Indian outsourcers. Here are the 10 key highlights from the brokerage's report:
1) Accenture has become increasingly offshore-driven, with almost all incremental hiring happening at such locations. 73 per cent of its 373,000 workforce (as of 2QFY16-end) is based in global delivery network (low-cost locations like India, Philippines, etc. with possibly 150,000 in India). The cost advantages of the offshore model are available for Accenture too, just like Indian outsourcers.
2) The brokerage believes the Accenture's strong Q2 earnings is company-specific (Accenture) and reflective of share gain rather than any improvement in demand conditions. Accenture's management characterised the macroeconomic environment as sluggish, risky, unstable and complex - same as what it was last year. It is not witnessing any significant change in IT budgets of clients this year compared to last year.
3) The probability of below-trend growth in US over the next 12-24 months is high. This will have a deleterious impact on Global 2000 corporations' broad sales growth - a key driver of Indian IT sector's revenue growth.
4) In digital - the key revenue driver for Indian IT services industry - the brokerage believes Accenture with its better end-to-end capabilities (consulting to outsourcing services) compared to Indian players (which are more outsourcing-oriented) is probably taking a larger bite of the fast-growing revenue pool.
5) Digital-related services were significant drivers of new bookings and revenue growth for Accenture. Its digital revenues grew more than 25 per cent in Q2 of FY16.
6) Overall, its consulting business reported 12 per cent year on year growth in Q2 while growth in outsourcing business was flat.
7) Large exposure to 'traditional services', which is facing significant pricing/value pressure, is the key problem faced by Indian players.
8) Traditional IT services spending on application development and maintenance, infrastructure management services, business process management and enterprise package implementation is getting squeezed in a big way and is being redirected to digital - used to describe services around social, mobility, analytics and the cloud. This is where most of the incremental spending is moving (some in the industry say it is as much as 90 per cent of incremental spending). This is also an area where the pricing is currently not under pressure.
9) Outsourcing also forms a very large part of Accenture revenues (46 per cent), where the brokerage believes it is up directly in competition with India-centric players like Tata Consultancy Services or TCS, Cognizant, Infosys, Wipro, HCL Technologies, Tech Mahindra etc.
10) Accenture indicated its big focus on deriving higher contract profitability - which in turn indicates increased importance to productivity and automation. This could mean that pricing is likely to be competitive in the coming days as some of the benefits of automation are passed on to customers.