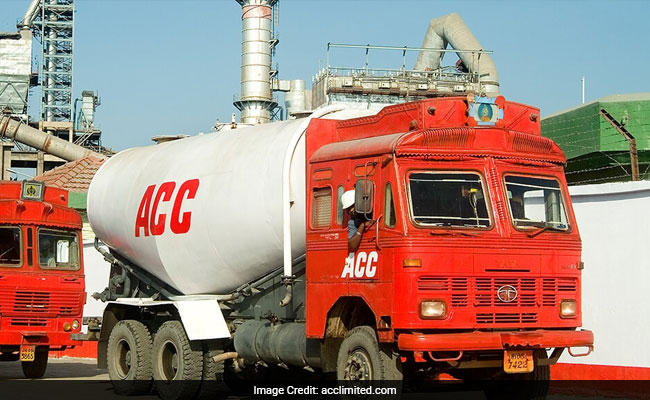 Shares of India's leading manufacturer of cement and ready mixed concrete, ACC rallied as much as 7.86 per cent to hit fresh 52-week high of Rs 1,614.40 after the company post market hours on Friday reported better than expected earnings earnings for the quarter ended March 2017. ACC which follows January to December financial year reported standalone net profit of Rs 211.50 crore on sales of Rs 3,556.70 crore in Q1. Analysts polled by NDTV Profit expected the cement maker to report net profit of Rs 143 crore on sales of Rs 3,152 crore.
Key surprise for ACC came on sales volume front. Analysts had expected ACC to report sales volume of 6.49 million tonnes, a jump of 2 per cent from the same quarter previous year. However, the company reported sales volume of 6.60 million tonnes, up 3.77 per cent over the previous year's volume growth of 6.36 million tonnes.
ACC in a press release said, "Cement volumes during the first quarter showed growth of 4 per cent year-on-year as the impact of demonetization declined and benefits were delivered from ongoing customer excellence initiatives and higher sales from the expanded capacity at Jamul and Sindri plant."
Meanwhile, ACC launched two new cement products- ACC Suraksha and ACC HPC.
"Two new products were launched in February 2017 reinforcing our commitment to the specialized product segment- ACC Suraksha, a world class offering that provides high strength, impermeable concrete, for longer lasting structures and ACC HPC (High Performance Cement), a specially engineered slag cement ideal for dense, corrosion-free and crack-resistant concrete," said ACC.
Going ahead ACC expects increased government spending on infrastructure, roads and housing to boost demand for cement.
"Increased government spending on infrastructure development, housing, roads, railways, irrigation and other schemes as announced in the Union Budget are expected to reinvigorate the construction sector and boost demand for cement and concrete during 2017," added ACC in a press release.
As of 1:55 pm, shares of ACC were trading 7.16 per cent higher at Rs 1,604. The stock came in high demand as 1.22 lakh shares changed hands on the BSE compared with an average of 21,000 shares traded daily in the past two weeks.