If you have filed income tax returns this year, today is the last day for linking Aadhaar with PAN. Otherwise, your income tax return won't be processed. The government has said income tax returns (ITRs) will be processed only after the linking Aadhaar with PAN. "Hence, if this linking (PAN-Aadhaar) is skipped, the return could be considered invalid and the person may have to file it again which shall be considered belated and may attract penalty, interest and other consequences like disallowances for losses," says Sandeep Sehgal, director of tax and regulatory at Ashok Maheshwary & Associates LLP.

You may not be able to avail some tax benefits like carrying forward of capital losses over next assessment years. Income tax rules in India allow loss under the head 'capital gains' to be set off against any profit under 'capital gains' head in the following assessment years. 'Long term capital loss' can be set off only against 'long term capital gains'. However, 'short term capital losses' are allowed to be set off against both 'long term gains' and 'short term gains'. If you are not able to set off your entire capital loss in a particular assessment year, both short-term and long-term loss can be carried forward for 8 assessment years immediately following the assessment year in which the loss was first booked.

Also, you may have to pay penal interest on unpaid tax liabilities. Under section 271F, the assessing officer could levy a penalty of Rs. 5,000 for belated returns (ITR).
From July 1, Aadhaar-PAN linking has been made mandatory for filing of ITR. While the government has time and again asked assessees to carry out Aadhaar-PAN linking, it has also explained why doing so is important.

The Income Tax Department had earlier said that it was "sufficient to quote Aadhaar or acknowledgement No. for having applied for Aadhaar in e-filing website" for e-filing of income tax return. Also, "actual linking of PAN with Aadhaar can be done subsequently, but any time before 31st August, 2017", it had posted on microblogging site Twitter.

Listed below are some ways to link your Aadhaar card with PAN:
How To Link Aadhaar-PAN through SMS
For all taxpayers whose name given in the Aadhaar card and PAN card are identical, a simple SMS-based facility is provided to achieve the linking. Such assessees need to send an SMS to 567678 or 56161 in the format: UIDPAN<12-digit Aadhaar><10-digit PAN>

For example: UIDPAN 111122223333 AAAPA9999Q

However, in case of assessees whose names given in the Aadhaar and PAN cards have a "minor mismatch", according to the Income Tax Department, the linking can be achieved using an online facility.
Linking Aadhaar with PAN via income tax website
A facility available on the Income Tax Department's e-filing website enables assessees with identical names given on Aadhaar and PAN as well as those with a minor mismatch to link the two identities.
The taxman has outlined steps to carry out this task through the portal: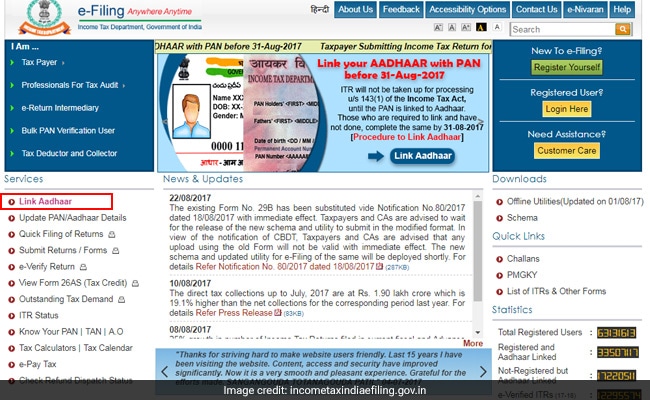 (Income tax efiling website provides a facility to link Aadhaar with your PAN)
Once on the income tax e-filing website - incometaxIndiaefiling.gov.in, click on the 'Link Aadhaar' option on the left hand side.


Enter your PAN, Aadhaar and name given on the Aadhaar Card. The name detail to be filled in this step is case sensitive.
Click on 'Link Aadhaar' button to proceed.
An OTP or one-time-password will be sent to the mobile number registered with Aadhaar.
Give Aadhaar in PAN application form
Aadhaar can also be seeded into the PAN database by quoting the biometrics-based identity number in the PAN application form - for allotment of a new PAN or for reprint of PAN card, the taxman has said.

"In case where Aadhaar name is completely different from name in PAN database then the linkage may fall and the PAN holder has to change the name in either Aadhaar or in PAN database or visit personally to designated PAN application centre of NSDL eGov or UTIITSL for Biometric Aadhaar authentication."