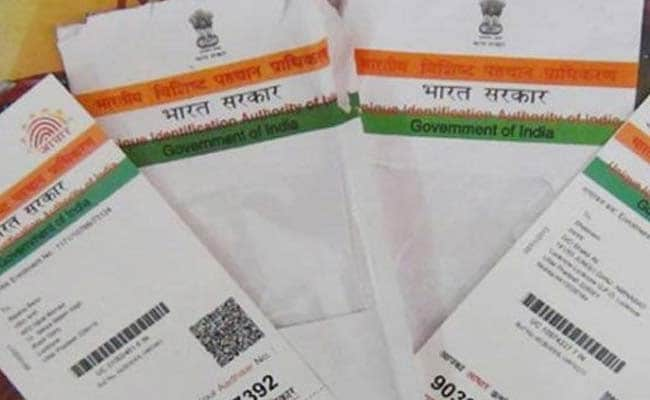 "Never share your Aadhaar or bank details with anyone claiming to offer Aadhaar linking services over call." This was said by the UIDAI or Unique Identification Authority of India on microblogging site Twitter. While March 31, 2018, is the last date to link their bank accounts with the Aadhaar card, banks have opened multiple channels to assist their customers in the Aadhaar-bank account linking process. These include online, ATM and, in some cases, SMS-based facilities. So, if you haven't linked your bank account with your Aadhaar yet or are looking to do it soon, check with your bank for the options available to you. (Also read: 12 Aadhaar-related tasks you can perform online through UIDAI portal)
Warning the public against phishing calls, the UIDAI said that one should not share their Aadhaar or bank details on such calls. "No one can call you to ask for Aadhaar or bank details on pretext of Aadhaar linking... This is most likely a phishing call. Do not share your details," stressed the UIDAI - also the issuer of Aadhaar card.
Never share your Aadhaar or Bank details with anyone claiming to offer Aadhaar linking services over call. pic.twitter.com/69ubjVMONo

— Aadhaar (@UIDAI) February 28, 2018
Currently, bank account holders can visit a branch of their bank to seed their Aadhaar card. For other methods, customers can check with their bank.
(
Also read
:
How To Check If Your PAN Has Been Linked With Aadhaar
|
What UIDAI Said On Sharing Of Aadhaar Card Number
)
The Aadhaar-issuing body mentioned some methods that should be used for linking of bank account with the Aadhaar card. These are:
Bank website
Bank branch/ATM
Bank's pre-designated (IVRS or Interactive Voice Response System) number
Linking Aadhaar via bank website
State Bank of India (SBI), for example, enables its customers to seed their Aadhaar into the bank account through its internet banking portal, onlinesbi.com.
The feature can be accessed either by visiting the SBI internet banking portal or through a
link
. Using the online facility, SBI customers can link their Aadhaar with the SBI account number. This is one of the modes provided by India's largest bank to its customers to link their Aadhaar with bank accounts. "If you are an Internet Banking user, you can link your Aadhaar using this option under e-Services," according to the SBI website. Customers can also visit an SBI branch with a copy of Aadhaar to link the UID with the bank account, it mentions.
Among other banks, India's largest private sector lender ICICI Bank also provides an internet banking-based facility to its customers, to enable them to seed their Aadhaar number. Besides, ICICI Bank also offers ATM, mobile app iMobile, phone banking and branch walk-in services to its customers.