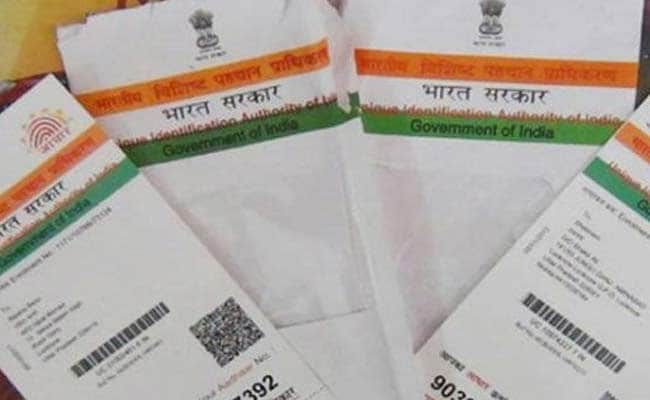 Ever wondered what happens after your provide your Aadhaar details to banks, financial institutions, mobile service providers, the Income Tax Department and other government bodies? Well, every time you go to open a bank account or seek to make a financial transaction or even get a new mobile number, you will be asked to share the details of your 12-digit unique identity number. All these bodies have to mandatorily check the identity of their customers according to the Aadhaar e-KYC (know your customer) norms, which involves a process of verification of their customers.
What is e-KYC?

Government bodies, financial institutions and mobile phone service providers are mandated by law to verify the identity of their customers. They, thus, seek photocopies of the customer's original identity proof. Via Aadhaar e-KYC, the same process can be done in a paperless way.

So, without having to submit the photocopy of his or her original Aadhaar card, the authentication process will be done smoothly, through Aadhaar e-KYC. All of this happens electronically. Thus, Aadhaar e-KYC is a process wherein the identity of the Aadhaar card holder is verified electronically through the Aadhaar authentication process.
What is Aadhaar authentication?

"Aadhaar based e-KYC is a paperless and digital way of sharing KYC (Know Your Customer) information for any service," said UIDAI - the issuer of the 12-digit Unique Identity Number (UID) as well as Aadhaar card - on microblogging site Twitter.
Aadhaar based e-KYC is a paperless and digital way of sharing KYC (Know Your Customer) information for any service. Know more about eKYC here- https://t.co/f2hrkP4ds3#AadhaarFactspic.twitter.com/N7EXG8abLt
— Aadhaar (@UIDAI) December 15, 2017


Aadhaar authentication is a process by which a customer's Aadhaar card number along with his personal information (biometric/demographic) is submitted to the UIDAI. The nodal Aadhaar body then responds only with a 'Yes/No', according to the website of NSDL e-Governance Infrastructure Limited - egov-nsdl.co.in. NSDL works closely with various government agencies for designing, managing and implementing e-governance projects, according to its website.


(
Also read
:
How to check your Aadhaar authentication history online
)
Purpose of Aadhaar authentication

The purpose of Aadhaar authentication is to enable residents to provide their identity and for the service providers to supply their services. Aadhaar authentication gives customers access to the benefits of those service providers who have verified his/hers details.

NSDL e-Gov also provides e-KYC services of UIDAI to entities whereby the KYC details of a resident like name, address, date of birth, gender, photograph, mobile number, e-mail ID (if available) are provided by UIDAI in a secured manner to the end user, said NSDL.
Benefits of Aadhaar authentication and e-KYC

It promotes a paperless environment, says NSDL.

There is no risk of forged documents.


Aadhaar authentication and e-KYC help in authorization of residents, thereby protecting their privacy.
The process is compliant with the latest standards notified in IT, Amendment Rules 2011.
The Aadhaar authentication e-KYC process is real-time and shows instantaneous results, according to NSDL.
The process helps in elimination of paper verification, movement and storage.
Meanwhile, the Supreme Court on Friday
extended the deadline for mandatory linking of Aadhaar
with various services and welfare schemes, including mobile phone (SIM). The top court set a March 31 deadline for Aadhaar linking. The extension for Aadhaar linking will also apply for state government schemes, the top court said.