Highlights
August 31 deadline to link Aadhaar with Permanent Account Number (PAN)
Income tax return (ITR) to be processed only if Aadhaar linked with PAN
Bank account holders need to furnish Aadhaar number by December 31
Aadhaar
is to be mandatorily linked with PAN by
August 31
. Otherwise, the income tax returns won't be processed. While the government has stressed the need for
seeding Aadhaar into PAN
database, it has
made it clear
that income tax returns (ITRs) will be processed only if both the unique numbers are linked. Quoting of the biometrics-based identity number Aadhaar is also compulsory for opening of
bank accounts
. Bank account holders are required to furnish their Aadhaar numbers by December 31, 2017 to continue to operate the account. But how to update or correct your Aadhaar details? Can this be done online? Yes.
How to update Aadhaar details online
You can submit your request for updating Aadhaar details through a
link
on the UIDAI website.
The link can also be reached by vising the UIDAI website homepage. One you are on the UIDAI website - uidai.gov.in, spot and click on the 'Update Aadhaar Details (Online)' link at the bottom of the page.

Find the link at the bottom of the next page to submit a request.

Once you are on the UIDAI's self-service tool, fill in your Aadhaar number in the required field and the text verification code as indicated. After this step, you will receive One Time Password (OTP) on your registered mobile number. "Mobile number is mandatory to receive password for login," according to the UIDAI website.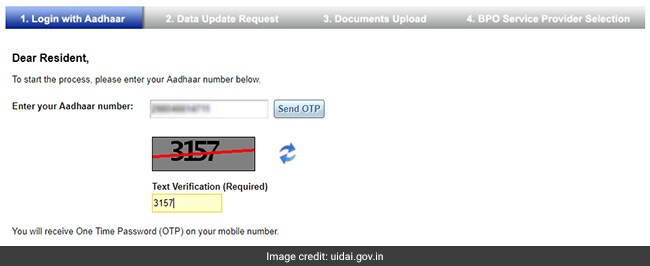 Fill in the required details and proceed.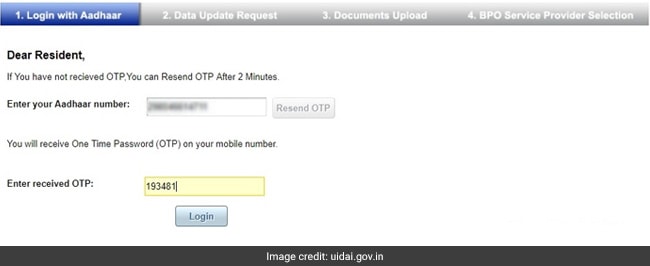 Select the fields you want to update and hit 'Submit'. You can select from Name, Gender, DoB (Date of Birth), Address, Mobile Number and Email. The UIDAI suggests visiting the Aadhaar Enrolment or Update Centre for other updates, according to its website.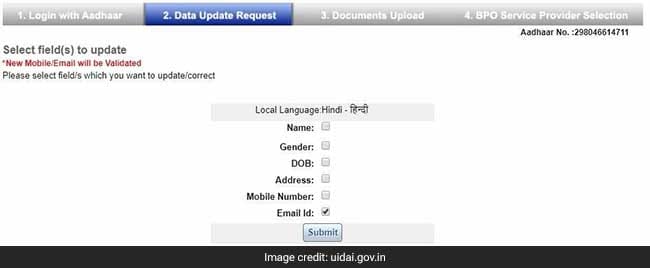 Enter the updated information and click on 'Submit Update Request'. "Ensure that your information is transliterated correctly in the local language. The English spellings in the local language boxes may be modified to get the local language spelling correctly," a message on the UIDAI website reads.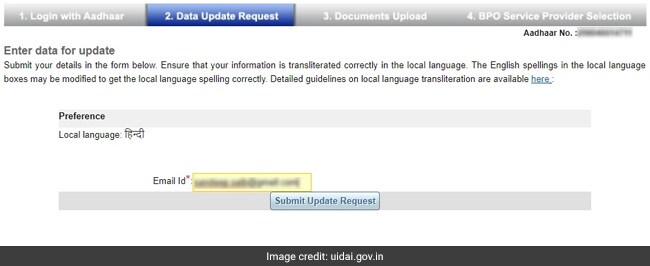 For information that requires submission of proof for correcting data from the user's side, the UIDAI tool enables uploads of scanned documents.
Residents are required to upload a self-signed or self-attested copy of relevant documents for requesting an update or correction, it says.
The UIDAI's online updation tool displays the information entered by you for verification. Check your entry. In case you want to make changes again, click on 'Modify' and proceed. Otherwise, click on the declaration checkbox and move on by clicking 'Proceed'.

"Submission of information for update does not guarantee update of Aadhaar data. The information submitted is subject to verification and validation," a message on the UIDAI portal notes.
Users registered with the UIDAI portal can also log in using their email and password and request an update thereof.
Aadhaar is issued by the Unique Identification Authority of India (UIDAI).