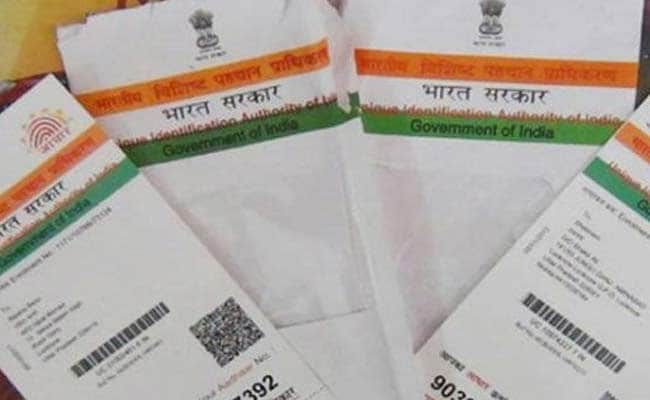 Linking Aadhaar, the unique 12-digit biometric ID, with PAN, bank account and Mobile SIM, along other government services is mandatory and its deadlines are "valid and lawful," UIDAI, the Aadhaar regulatory body said Thursday. As those opposing Aadhaar linking fight for an interim relief from the linking, UIDAI said that there will be no relaxation of earlier deadlines. However people have not yet obtained an Aadhaar card will get another three months to link their Unique Identification Number with bank accounts and government welfare programmes.
The Aadhaar regulator also tweeted its position on the deadlines:
Press Release: UIDAI clarifies position of Aadhaar Act vis-a-vis linking of various services pic.twitter.com/QdJQvyuKqW

— Aadhaar (@UIDAI) December 7, 2017
Here are the latest developments on Aadhaar deadlines:
1) While the deadline for verifying bank accounts and income tax Permanent Account Number (PAN) by providing Aadhaar is December 31, for SIM cards it is February 6.
2) UIDAI has refuted a video doing rounds on social media about extension of deadlines. "The mandatory requirements of Aadhaar for PAN, bank accounts, welfare programs, and SIM cards have been challenged in the Supreme Court and no stay has been granted. Therefore, it is clear that the video is outdated because it does not reflect the latest legal position as on today (December 7, 2017)," an UIDAI statement said.
3) People should link Aadhaar with bank and investment accounts and SIM cards as early as possible to avoid inconvenience, UIADI said.
4) The Income Tax Act was amended in March 2017 to make Aadhaar mandatory for PAN cards. On June 1, 2017, PMLA (anti-money laundering legislation) Rules have been amended to make Aadhaar mandatory for linking all bank accounts, insurance, pension, mutual funds and DMAT accounts.
5) The Aadhaar (Targeted Delivery of Financial and Other Subsidies, Benefits and Services) Act, 2016 was passed by the Parliament on March 16, 2016 and notified in the Gazette of India on March 26, 2016.