Aadhaar is now compulsory for carrying out many important tasks today. These range from keeping an insurance policy, investing in small savings schemes such as PPF (Public Provident Fund) and Post Office accounts and maintaining a bank account to using a mobile SIM. The Unique Identification Authority of India (UIDAI), which issues the 12-digit Aadhaar number (also known as Unique Identity Number (UID), has provided several Aadhaar tools online. One of these tools enables a user to update or correct his or her address given on Aadhaar.
You can update ONLY Address via online or post mode. For any other update, visit nearest Aadhaar Kendra (Search: https://t.co/SADO8sC0tI ) pic.twitter.com/rlS1Gmdzl1
— Aadhaar (@UIDAI) November 9, 2017

To change the address fed into the Aadhaar database, a users can access the 'Address Update Request (Online)' link on the Aadhaar portal - uidai.gov.in - and submit a request in four steps, according to the UIDAI website.These steps are: login with Aadhaar, address update request, upload documents and select BPO service provider/submit request. "Note that Update here refers to any changes as well as corrections, if required, in resident´s original Aadhaar letter," the UIDAI added.
Who can update Aadhaar address online
Any resident with a registered mobile number can update address using this portal, the UIDAI further said on its website. "Registered Mobile number is mandatory to receive password for login," it noted.

The online tool hosted on the UIDAI portal only enables an Aadhaar holder to update or correct his or her address. "For other updates, please visit Aadhaar Enrollment/Update Center," the UIDAI said.

Submission of information for update does not guarantee update of Aadhaar data. The information submitted is subject to verification and validation, according to the UIDAI website.
How to update address fed into Aadhaar database
Once on the UIDAI website, find and click on the 'Address Update Request (Online)' tool. This tool can also be accessed through its link.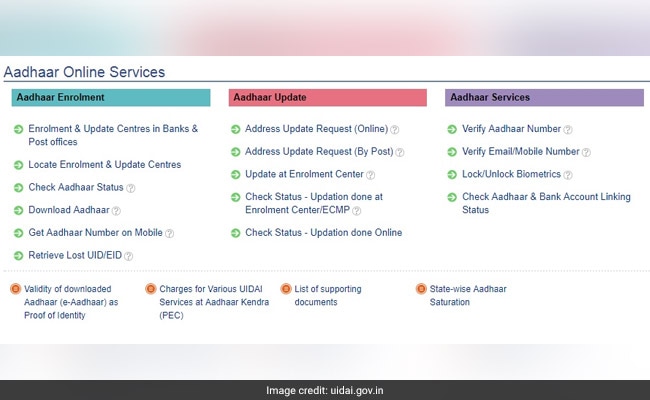 Enter your 12-digit Aadhaar number and click on 'Send OTP'. OTP or one-time password is sent by the Aadhaar system on the user's registered mobile number.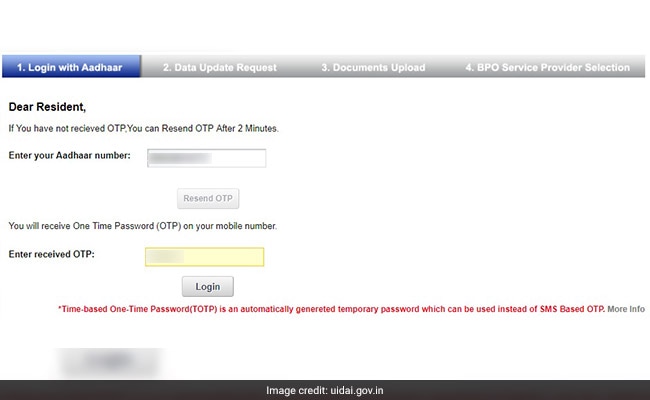 Enter this OTP in the specified field and click on 'Login'.

On the next page, select 'address' and proceed.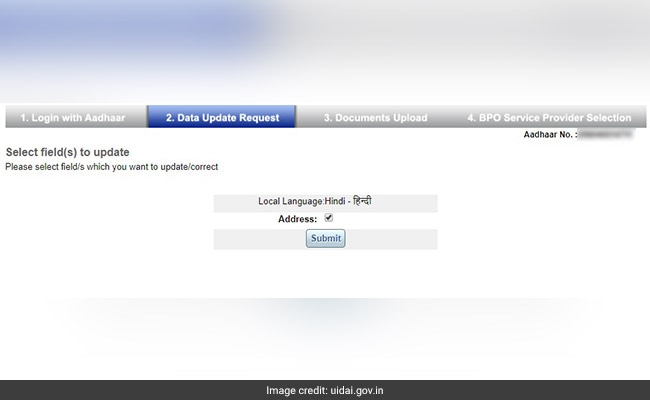 Fill in the correct details.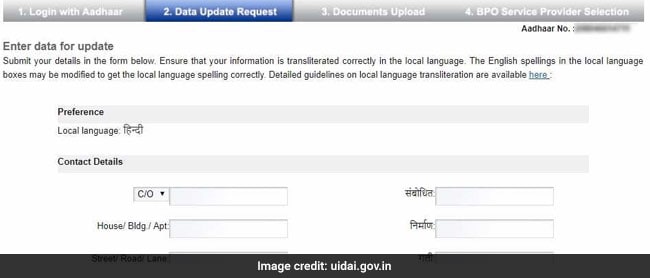 (The portal also provides a transliteration facility in local language)

"Ensure that your information is transliterated correctly in the local language. The English spellings in the local language boxes may be modified to get the local language spelling correctly...," according to the UIDAI self-service update portal.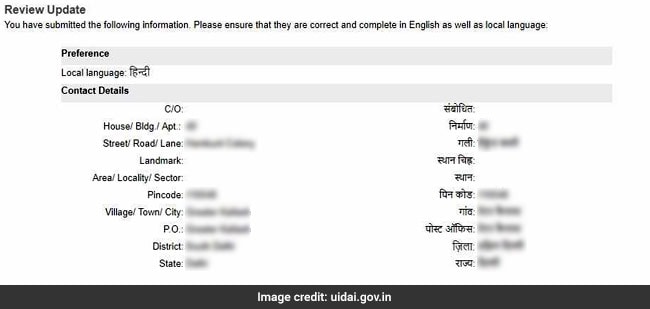 (On this page of the Aadhaar self-service update portal, users can review the information fed by them for correctness)


Check the details thoroughly and proceed.
At this stage, the user is required to submit the valid document supporting the requested correction. Users are required to upload original scan copies of the valid documents. "Upload only the valid documents to avoid update request from rejection," the UIDAI noted.
Select from the available service providers and proceed.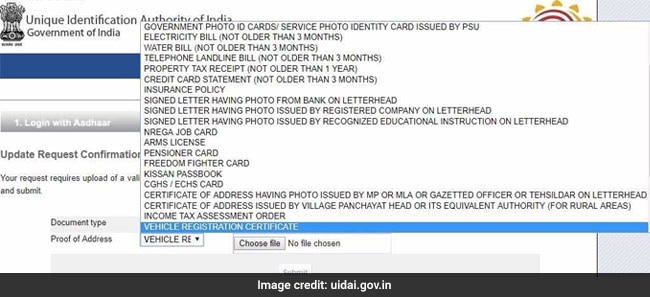 (The portal accepts several types of documents to support a change)
At the end of submission, a URN or Update Request Number is issued to track the status of application.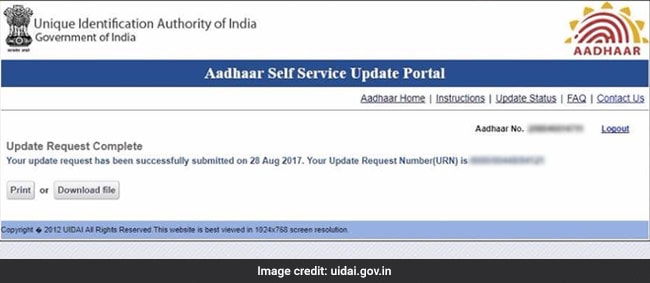 (The portal displays the URN along with the date of submission)
Documents required for Aadhaar address change
"Residents are required to upload scanned image of original Proof of Address(PoA)/self signed (self attested) copy of PoA documents for update/correction. View the valid list of documents," the UIDAI added. The documents required for address change include passport, bank statement/passbook, statement of Post Office account/passbook, ration card, voter id, driving license, water bill and telephone landline bill, among others, according to the UIDAI website. The bills for water, telephone and electricity must not be older than three months, it noted.
Follow NDTV for latest election news and live coverage of assembly elections 2019 in Maharashtra and Haryana.
Subscribe to our YouTube channel, like us on Facebook or follow us on Twitter and Instagram for latest news and live news updates.