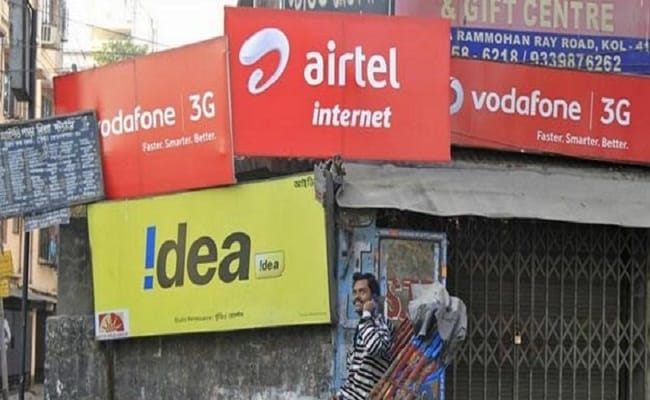 Aadhaar card
can be linked with mobile phone connection or mobile SIM via an IVR system-based method, among other modes. Many telecom companies have set up a toll-free service that enables the customers to link their Aadhaar number with mobile number, as directed by the government. This an IVRS - or Interactive Voice Response System-based facility - can be accessed by dialing 14546 to take up re-verification of Aadhaar number on a mobile phone. March 31, 2018 is the last date for linking your mobile SIM with your Aadhaar number.
Among the telecom operators that have activated this service include Bharti Airtel and Vodafone India.
Bharti Airtel has, for example, set up the toll-free, IVRS-based facility 14546 to assist their customers in the Aadhaar verification process. According to Bharti Airtel's website, the telecom company's customers can verify their mobile number with Aadhaar "sitting at home" through the toll-free helpline 14546. "...Call 14546 (toll-free). OTP will be sent to your number registered in Aadhaar database," Bharti Airtel mentions on its website.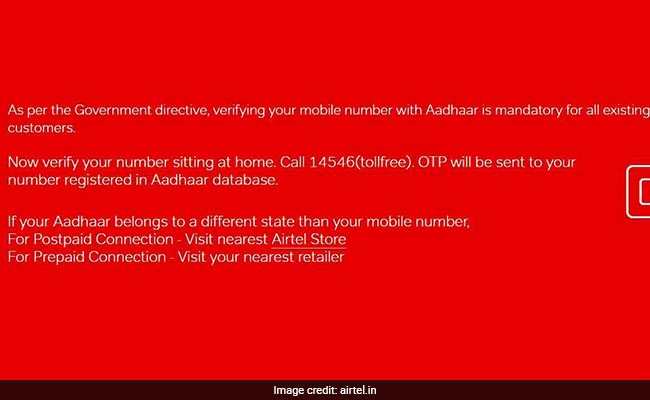 Among other telecom operators, Vodafone India has on its website listed eight steps for its customers to re-verify their mobile number with Aadhaar via IVR. Mobile phone subscribers of other telecom companies may check with their telecom operator for such a facility. (
Read
:
How Aadhaar authentication works by dialing 14546
)
This method, explains Vodafone India, requires the mobile number the customer wants to re-verify, the Aadhaar number of the customer, the mobile number registered with Aadhaar (for receiving OTP or One-Time PIN) and any other mobile number on the customer's name (provided by Vodafone or any other company).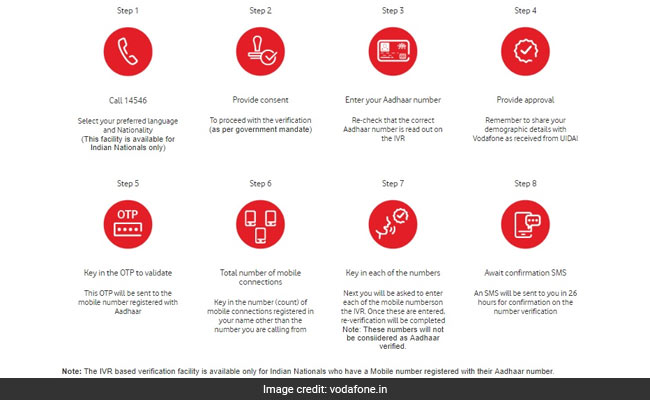 How to link Vodafone India mobile number with Aadhaar via IVRS by dialing 14546, according to the telecom company's website - vodafone.in:
1. Call 14546
2. Provide consent
3. Enter Aadhaar number
4. Give approval
5. Key in OTP to validate
6. Total number of mobile connections
7. Enter each such mobile number
8. Wait for confirmation SMS