Highlights
Aadhaar required to be linked with bank account by December 31, 2017
Aadhaar can be linked with bank account online, via SMS, ATM, at branch
UIDAI online tool enables Aadhaar holders to check status of application
Have you linked your Aadhaar card with your bank accounts yet? If not, you are required to link your Aadhaar card with bank accounts by December 31, 2017, a deadline mandated by the government. Aadhaar card - which contains the 12-digit UID (Unique Identity Number) - can be linked with bank accounts in multiple ways - online, SMS, ATM and branch visit. Many banks have urged their customers to complete the Aadhaar card linking process soon. Those who have applied for a linkage between their Aadhaar card and bank account can also check the status of their application on the UIDAI portal - uidai.gov.in. This was said by the UIDAI (Unique Identification Authority of India) on microblogging site Twitter.
Verify your bank account with Aadhaar, check your Aadhaar and Bank Account Linking Status on https://t.co/DHVzMIkw3D#BankonAadhaarpic.twitter.com/c1QzVPvCdt
— UIDAI RO MUMBAI (@uidairomumbai) October 4, 2017
The UIDAI also said: "By verifying your bank account with Aadhaar, you are adding an additional layer of security. Your bank account information is never transferred to Aadhaar/UIDAI by your bank."
How to check Aadhaar card-bank account linking status

Visit the UIDAI website - uidai.gov.in and click on 'Check Aadhaar & Bank Account Linking Status' in the 'Aadhaar Services' section.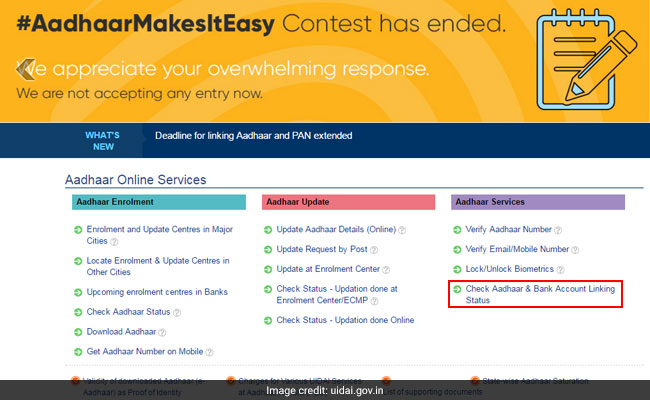 Enter your Aadhaar number and the security code displayed on the screen and then click on "send OTP".

An OTP (one time password) will be send to your registered mobile number. Enter that OTP and click on "Login".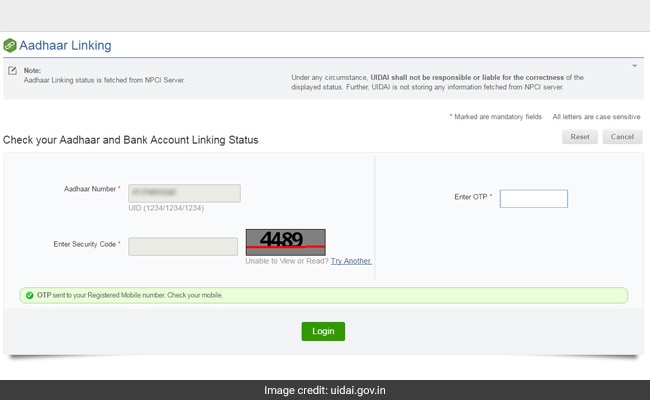 If your Aadhaar linking is done then it will show "Congratulations! Your Bank Aadhaar Mapping has been done" along with your bank name and linking date.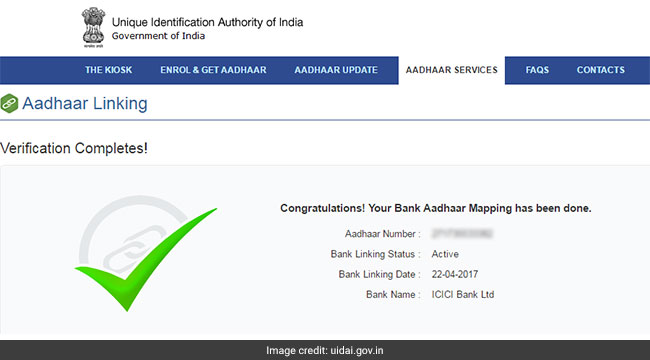 However, if you have multiple bank accounts and you have done Aadhaar mapping in all the accounts, it will not be shown on the UIDAI website. Only the last bank account mapped-in with your Aadhaar number will be displayed here. Also to use this facility, your mobile number must have been updated in your Aadhaar data.
How to link Aadhaar card with SBI account online

SBI (State Bank of India) offers its customers a facility to link their Aadhaar card with the bank account online.

SBI customers can login on the bank's online banking portal - onlinesbi.com. Once logged in, the customer can access the link 'Link your Aadhaar number' under the 'My Accounts' section appearing on the left panel of the screen.

On clicking the above link, you will be directed to a screen where you have to select the account number, input the Aadhaar card number and click on 'Submit'.


The last two digits of registered mobile number (non-editable) will be displayed to the customer.
The status of mapping will be intimated to the customer's registered mobile number.
SBI customers can also link their Aadhaar number through SMS, ATM and branch visit.
Get Breaking news, live coverage, and Latest News from India and around the world on NDTV.com. Catch all the Live TV action on NDTV 24x7 and NDTV India. Like us on Facebook or follow us on Twitter and Instagram for latest news and live news updates.