Have you applied for an update on the address given your Aadhaar card? The UIDAI or Unique Identification Authority of India, which issues the 12-digit Unique Identity Number or Aadhaar number as well as Aadhaar card, enables users to request updates in their address online through an online tool hosted on its self-service portal - uidai.gov.in. This facility can be accessed through the 'Update Aadhaar Details (Online)' link on the UIDAI website. It can also be accessed directly through a
link
. The UIDAI, through another online facility, also enables such users to check the status of their update request.
The UIDAI, however, advises a period of 90 days before enquiring about the status of update request. "Any Aadhaar enrolment/update takes up to 90 days for completion," the UIDAI said on microblogging site Twitter. After the period, the UIDAI can be reached on its website, toll-free helpline 1947, email (help@uidai.gov.in) and social media for any queries or complaints, it adds.
Pls note that Aadhaar update/enrolment takes up to 90 days. You may check the status of your update request from: https://t.co/GbVsIqVS1X

— UIDAI Bengaluru (@UIDAIBengaluru) November 6, 2017
Meanwhile, the Supreme Court has
extended the deadline for linking Aadhaar card
with various schemes and welfare measures to March 31, 2018. The government had earlier extended to March 31, 2018 the deadline for mandatory quoting of Aadhaar card and Permanent Account Number (PAN) for bank accounts and certain financial transactions.
How to check status of address update request made online
Once on the 'Aadhaar Self-Service Update Portal' page, enter your Aadhaar number, the URN or Update Request Number - issued by the UIDAI portal at the time of submission of updation application and Text Verification code in the specified fields.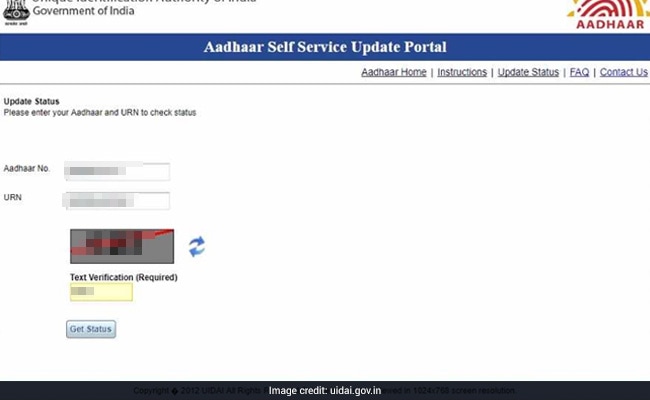 (The Aadhaar self-service update portal issues a URN after the user submit a request for change in details)
Click on 'Get Status'.
In case of a request in process, the next page displays the message: "Please check again after few days."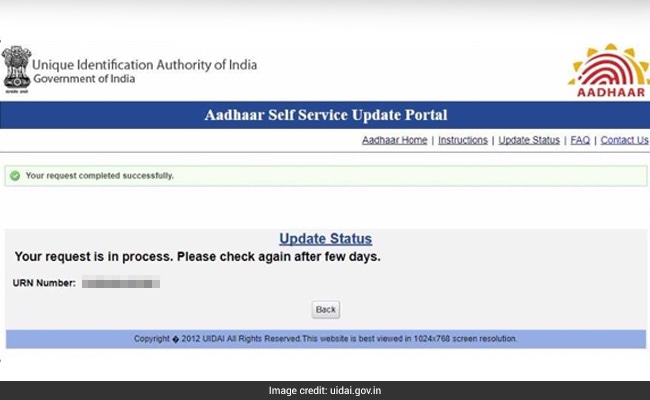 (The Aadhaar portal gives the status of update request based on the URN entered by the user)