Aadhaar or Unique Identity Number (UID) - the 12-digit identification issued by the UIDAI (Unique Identification Authority of India) based on biometrics data - has now to be quoted mandatorily for performing a number of important tasks. These tasks range from filing income tax returns (ITR), applying for a PAN (Permanent Account Number) card to operating a bank account. Account holders are required to link their Aadhaar cards with bank accounts by December 31, 2017, a deadline mandated by the government.
Many banks have urged their customers to complete the Aadhaar card linking process soon. Banks have provided different ways to link Aadhaar card - which contains the 12-digit UID - with bank accounts online, by sending an SMS, through ATM and by visiting a branch. Those who have applied for a linkage between their Aadhaar card and bank account can also check the status of their application on the UIDAI portal - uidai.gov.in. This was said by the UIDAI on microblogging site Twitter.
How to check Aadhaar card-bank account linking status
Visit the UIDAI website - uidai.gov.in and click on 'Check Aadhaar & Bank Account Linking Status' in the 'Aadhaar Services' section.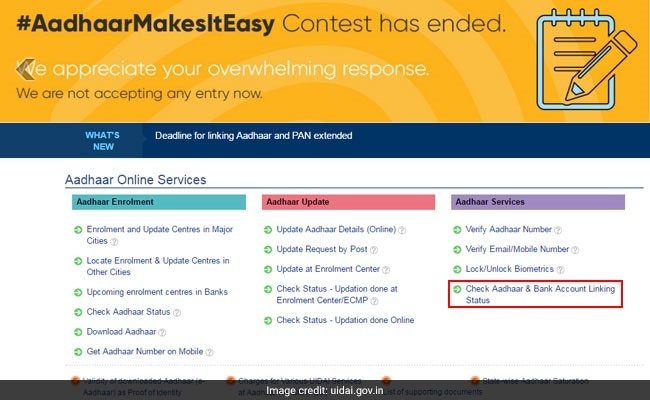 Enter your Aadhaar number and the security code displayed on the screen and then click on "send OTP".
An OTP (one time password) will be send to your registered mobile number. Enter that OTP and click on "Login".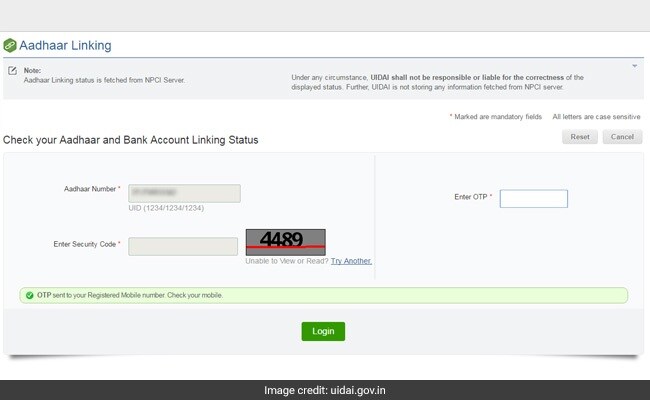 If your Aadhaar linking is done then it will show "Congratulations! Your Bank Aadhaar Mapping has been done" along with your bank name and linking date.