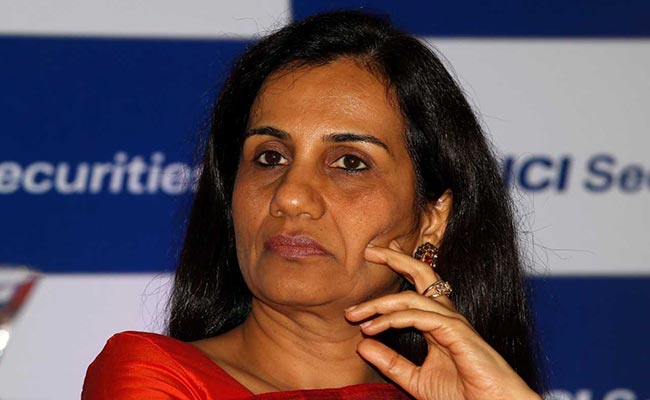 A day after announcing the Q4 results, the ICICI Bank board will meet again on Tuesday. While officially the meeting's agenda is 'strategy', the issue that is likely to be discussed is the controversy surrounding Rs 3,250-crore loan to the Videocon group. Sources confirm that the issue is likely to come up for a discussion. The loan came under the scanner after some reports called the loan as an alleged favour given to Videocon Group's promoter Venugopal Dhoot who had allegedly invested into NuPower Renewables, a company founded by Deepak Kochhar, Chanda Kochhar's husband. The CBI had questioned Ms. Kochhar brother-in-law, Rajiv Kochhar in connection with the case.
The CBI has registered a preliminary enquiry in the case. A preliminary inquiry is the first step by the CBI to gather information about the allegations. If the agency is convinced that there exists prima facie material in the matter, it may register a regular case against the accused.
ICICI Bank managing director and CEO
Chanda Kochhar
had one response to the questions on the allegations of impropriety and quid pro quo in connection with a loan extended to the Videocon group. "ICICI Bank has always cooperated with investigative and regulatory agencies and we will continue to do so," Ms Kocchar replied, reading from a prepared note every time a question was asked on the topic.
When asked if she would complete her tenure as the bank's MD and CEO, she replied, "This is a results press conference and I don't think CEO tenures are discussed in results press conferences."
The top banker was scheduled to brief reporters on the
Q4 quarterly results of the bank
. Many channels, including NDTV were not invited to the briefing. ICICI Bank said the briefing was open to only those who covered the results regularly.
Also Read
:
ICICI Bank Q4 Net Profit Nearly Halves To Rs 1,020 Crore On Higher Provisioning For Bad Loans
Ms. Kocchar was asked by several reporters to clarify on the allegations levelled against her in connection with the Rs 3,250-crore loan given by the bank to the Videocon Group in 2012 but each time, she replied with the same answer. Incidentally, the Videocon account became an NPA (Non-Performing Asset) for the bank later.
Meanwhile, ICICI Bank reported a nearly 50% percent year-on-year drop in net profit at Rs 1,020 crore for the fourth quarter ending March 2018. Net profit for the same quarter last year was Rs 2,024.60 crore. The net profit was affected by an 85-percent spike in provisions due to a 17-percent rise in bad loans for the bank.