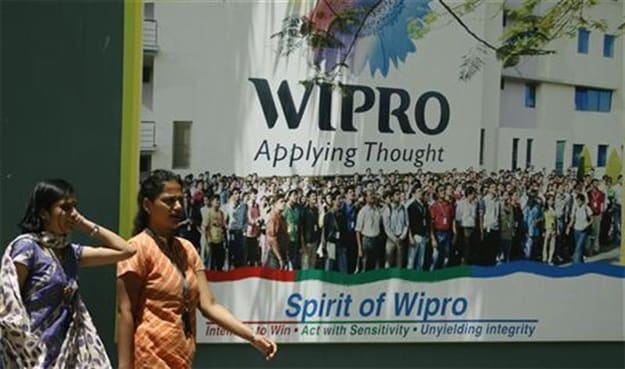 Shares in IT services company Wipro fell as much as 11.25 per cent today after the company announced weaker-than-expected guidance for the first quarter of the financial year 2013-14 on Friday.


The stock closed at 339.35, down 7.95 per cent, on the Bombay Stock Exchange. The BSE benchmark, Sensex, ended the day at 19,169.83, up 153.37 points, or 0.81 per cent.
Here are five reasons why the stock fell steeply
India's third-largest software services provider forecast weaker-than-expected revenue for the June quarter, including a possible decline in revenue. Wipro, whose customers include Citigroup and Apple, projected first-quarter revenue for its IT services business to be in a range of $1.58 billion to $1.61 billion, a decline of 0.6 per cent to a rise of 1.6 per cent over the previous quarter. That compares with a range of 1.5-4 per cent which analysts were expecting.
Wipro's sales forecast highlights a gap in performance among India's four biggest IT exporters and a still shaky recovery in client demand after No. 2 player Infosys' tepid revenue guidance. The forecasts contrast with a more bullish outlook issued by industry leader Tata Consultancy Services (TCS) that had raised expectations IT spending by clients in the United States and Europe was improving.
"If Wipro had been able to make a recovery, then it would have told you that there is a rising demand tide that is lifting most of the boats," said Kuldeep Koul, an analyst at ICICI Securities in Mumbai.
Despite double-digit year-on-year growth in sales and net profit, the company has put up a flat lackluster performance compared to the previous quarter. It posted a net profit of Rs. 1,729 crore in the fourth quarter of the financial year ended March 31, 2013 compared to Rs. 1,716 crore in the December 2012 quarter. Total revenue came in at Rs. 11,026 crore, an insignificant rise from revenue of Rs. 11,025 crore in the previous quarter.
Compared to its peers, such as TCS and Infosys, Wipro had the worst sales growth in the financial year ended March 2013. For Infosys, FY 13 revenues grew 19.6 per cent while market leader TCS clocked an impressive 29 per cent growth. Wipro saw a 16 per cent increase. In the March 2013 quarter, dollar revenues grew 0.5 per cent quarter on quarter compared with 3.2 per cent for HCL Technologies, 3.1 per cent for TCS and 1.4 per cent for Infosys.
Brokerages are disappointed by the fourth quarter results.
CLSA has an 'underperform' rating on the stock with a target of Rs 375. Wipro seems to be struggling with changing demand pattern post 2008, CLSA said, adding that modest financial performance is likely to keep the valuations subdued.
"Wipro's weak results imply growth in Indian IT will be polarized in FY14," Goldman Sachs said, reiterating its 'sell' call on the stock. It has put the target price under review.
"We expect Wipro's growth rates to lag behind its peers in the near term. We have lowered our dollar revenue expectations to 7.5 per cent / 12 per cent for F14e/F15e and factored in demerger of non-IT business into our earnings estimates. We maintain a 'hold' recommendation with a target price of Rs. 380," SBICAP Securities said in a note.