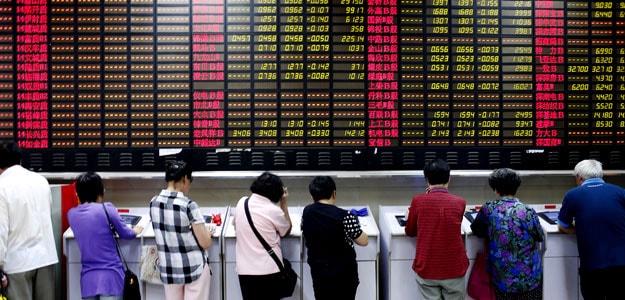 The higher-than-expected depreciation in China's currency on Thursday has triggered a turmoil in global financial markets. In China, stock markets were suspended for the rest of the day today less than half an hour after opening as Shanghai shares crashed 7 per cent. This is the second time this week trading in Chinese stock markets were suspended for the day.
The Chinese central bank, or the People's Bank of China, on Thursday surprised markets on Thursday by setting the yuan exchange rate at 6.5646 per dollar, the lowest since March 2011. A surprise devaluation in August last year saw China lowering the yuan nearly 5 per cent against the dollar in a week, sending tremors through global markets on concerns Beijing was struggling to control a slowdown in growth.
Here are 5 reasons why yuan's devaluation is roiling global markets1)
This sharp fall in yuan has raised concerns that China might be aiming for a competitive devaluation to help its struggling exporters. The yuan has depreciated by over 4 per cent in past three months against the dollar. A sustained depreciation in the yuan puts pressure on other Asian countries to devalue their currencies to stay competitive with China's massive export machine. The sharp fall in China's yuan sent other currencies in the region into a tailspin. The rupee ended lower at 66.93/dollar against Wednesday's close of 66.82. The Sensex fell over 550 points amid a selloff in other global equity markets.
2)
The fall in yuan also makes commodities, which are denominated in US dollars, more expensive for Chinese buyers. This could hurt demand and thus further depress commodity prices which are at multi-year lows.
3)
Some analysts fear the yuan's quickening slide suggests the world's second-largest economy is in deepening trouble. China is one of biggest markets for many global companies. And a further economic slowdown in China, which is growing at slowest rate in decades, could impact the earnings of global corporates. Shares of Indian automaker Tata Motors fell over 6 per cent today on concerns that weak economic growth in China could impact the sales of its Jaguar Land Rover unit in that country.
4)
The sharp fall in yuan has raised fears of cheaper Chinese goods hurting the sales of domestically manufactured products in many countries. Shares of Indian metal companies fell sharply today on concerns over cheaper Chinese imports.
5)
The depreciation of China's currency comes at a time when the US is looking to tighten its monetary policy. "This is perfect storm of everything coming together," said Michael Every, head of financial markets research, for Asia-Pacific at Rabobank. "The more the China devalues they send the message that they would be exporting more. Effectively, China is exporting deflation to the rest of the world which is already struggling with deflation."