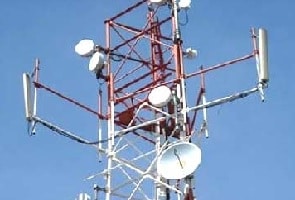 New Delhi
: The next round of spectrum auction for 2G and 3G networks will be held from February 25, through which the government targets to garner at least Rs 64,840 crore.
A notification was issued by the Department of Telecom in this regard late on Friday.
The spectrum auction will be held for frequencies in four bands - 800 Mhz, 900 Mhz, 1800 Mhz and 2100 Mhz.
The last date for submission of applications is February 6 while auction will start from February 25, according to the timeline mentioned in the Notice Inviting Applications (NIA).
The Union Cabinet on Monday approved the largest ever telecom spectrum auction that is targeted to fetch at least Rs 64,840 crore from the sale next month. (Read more)
The government will sell 380.75 megahertz of second generation (2G) spectrum in three bands - the premium 900 MHz, 1800 MHz and 800 MHz.
Details regarding auction of spectrum in 2100 MHz will be issued later, according to the notice.
The Cabinet, headed by Prime Minister Narendra Modi, approved a reserve price of Rs 3,646 crore pan-India per MHz in 800 MHz, Rs 3,980 crore for 900 MHz band pan-India excluding Delhi, Mumbai, Kolkata and J&K, and Rs 2,191 crore pan India (excluding Maharashtra and West Bengal) in 1800 MHz band.
The reserve price for 2,100 MHz is yet to be announced.
Government had garnered about Rs 62,162 crore from the last auction in February 2014.
Proceeds from this year's auction will help government reach its fiscal deficit target of 4.1 per cent of GDP.
For the upcoming auction, a pre-bid conference will be held on January 13, while the names of pre-qualified bidders would be announced on February 16.
The last date of withdrawal of applications is February 18, while final list of bidders will come on February 20.
A mock auction will be held on February 23-24, while live auction will begin on February 25.
The payment of the successful bid amount will need to be paid within 10 days of the close of auction, it added.
Mjunction Services Ltd will conduct the auction.
The spectrum in 900 Mhz held by Airtel, Vodafone, Idea and RCom through their licences is expiring in 2015-16. These are being put up for auction.
Telecom Minister Ravi Shankar Prasad had said the government intends to auction third generation or 3G spectrum in 2,100 MHz simultaneously.
The focus of the auction is to provide adequate spectrum, prevent hoarding, fair competition, improve telecom services for consumers and adequate revenue for government.
The estimated revenues from this auction are Rs 64,840 crore (excluding 2100 MHz spectrum) of which Rs 16,000 crore is expected to be realized in the current financial year.
At the reserve price of last auction, airwaves were valued at about Rs 48,685 crore. Government had put on the block about 385 MHz of radio waves in 1800 MHz band, and 46 MHz in 900 MHz band. During that auction, all the spectrum in 900 MHz band got sold but 78 Mhz in 1800 MHz band remained unsold.
Any company holding a universal service licence to provide telephony services or eligible to obtain the same, can bid in this year's auction.
Successful bidders have to pay within 10 days 33 per cent of the final sale price in case of 1800 MHz. The same is 25 per cent in case of 900 MHz and 800 MHz.
There are total 22 telecom service areas in the country and the price of spectrum in each circle is different. Telecom Commission has recommended auctioning 184 Mhz in 900 Mhz band across 18 service areas and 100.2 Mhz in 1800 Mhz band in 15 service areas.
The quantum of spectrum for auction in 1800 Mhz has been reduced by the Cabinet.
The 900 Mhz and 1800 Mhz band are used for providing GSM based mobile services by companies like Airtel, Vodafone, Idea, Uninor. The 800 Mhz band is used for CDMA based mobile services by companies like MTS, Tata Teleservices and Reliance Communications.
There were no buyers of CDMA spectrum in November 2012 auction as companies felt spectrum price was too high to make a business case.
MTNL has proposed to surrender its CDMA spectrum in Delhi and Mumbai. BSNL has proposed to surrender one block of 1.25 Mhz CDMA spectrum in 10 service areas.