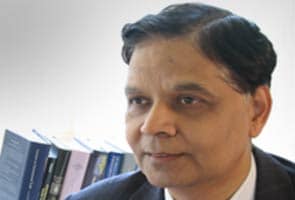 Noted free market economist Arvind Panagariya has been appointed to run Prime Minister Narendra Modi's new NITI Aayog, set up to modernise economic strategy after decades of Soviet-style central planning. PM Modi scrapped the 65-year-old Soviet-era Planning Commission in the New Year, replacing it with NITI Aayog, a body he said would do more to involve the regions. Mr Panagariya, as vice chairman, would have a pivotal role in coordinating economic strategy and hold cabinet rank.

1) India-born Mr Panagariya holds a Ph.D. from Princeton University and is currently a Professor of Economics at Columbia University.

2) In the past, he has been the chief economist of the Asian Development Bank. He has also worked for the World Bank, International Monetary Fund, World Trade Organization, and the United Nations Conference on Trade and Development (UNCTAD) in various capacities.


3) His book, Why Growth Matters, (with Jagdish Bhagwati) has been described by The Economist magazine as "a manifesto for policymakers and analysts."
4) In 2012, Mr Panagariya was honoured with Padma Bhushan.
5) Arvind Panagariya has been a strong supporter of Narendra Modi's Gujarat model of development. As debates raged on during the pre-election campaign over the economic performance of the state under the leadership of Mr Modi, the Columbia University professor backed Gujarat's development model.
6) He had earlier been appointed as the vice-chairman of the Rajasthan Chief Minister's Economic Advisory Council.
7) Mr Panagariya has advocated a loosening of fiscal deficit targets that he said were stifling growth to allow for more capital spending. That view is shared by Arvind Subramanian, another economist brought in from the United States last year to advise the finance ministry.
8) Mr Panagariya's market-friendly, pro-growth views could be influential in shaping the first full budget of the Narendra Modi government which is expected in February. "India needed to restore space to markets but that there was still a need for growth in social spending in a country that has about a third of the world's extremely poor," he said earlier.
9) In an interview with NDTV, Mr Panagariya had earlier said the government should focus on banking sector reforms, coal sector, infrastructure and subsidy.
10) State-run banks are also going to be one of the biggest tests of PM Modi, he had said. The banks are reeling under the burden of bad assets as the economy slowed down sharply in the past few years. He advocated sale of government stake in banks to enable banks "raise equity from the market and bring it to another step close to eventual privatisation if the government decides to do".