With my exams coming up, the Ramjas College fest was the last thing on my mind. In fact, after a rough time at our own fest that year, I wanted to run away as far as I could from the word itself. I had my own problems. Ramjas can sort out its freedom of expression issue on its own, I thought, and left to get a coffee. My best friend joined me and we sat to do our work. Every so often, we'd chatter about college gossip - who was doing what, who was standing for which post on the students' union, whom we should vote for and if the previous union was corrupt or not. Our phones were on airplane mode because both of us knew that there was no way we could finish our work if there were Instagram and Facebook notifications begging us to glance at our phones.
That evening, when we got back to our rooms and turned off airplane mode, our phones started buzzing with WhatsApp messages. What was going on? Why was everyone panicking? My phone was flooded with harrowing pictures of violence. These were not pictures that were being circulated by the media - who tended to blow things out of proportion anyway - but those that were being sent to us, in real time, by our own friends who were there.
It all happened in a blur. The students - who had been peacefully protesting to condemn the campus violence involving the Akhil Bharatiya Vidyarthi Parishad (ABVP) - were roughed up. There were long messages telling us what had happened and asking if any of us could shelter the injured girls. But as is the case with most college hostels, no one could enter our hostel after a certain hour. I was told that students were lathi-charged at the protest and herded into police vans like sheep. Then they were taken to a metro station and left there.
I felt anger, closely followed by overwhelming helplessness. What could I have done, sitting in my hostel, honouring a curfew of 8.30 p.m.? How could I help when I could not even go out, I kept wondering. This wasn't just breaking news on TV, these were injustices happening to my own friends. It is so easy to dismiss the bad in the world when it is playing on your TV screens like a movie. You start to think it's all fiction but it never is. It is happening somewhere in the world, to real people, and this time it was happening to people that I knew, people that I saw in my college every day, laughing and smiling.
How does one ignore something like this?
I took a piece of paper-one side of which, in fact, had notes from the previous semester and two different coloured pens. Red and black. My friend wrote down the message we had just sat together and framed. I stood with my back to the white wooden door, holding up the sheet as my friend clicked a picture. It was uploaded with a caption on my Facebook profile page.
This is what the placard said: 'I am a student from Delhi University. I am not afraid of ABVP. I am not alone. Every student of India is with me. #StudentsAgainstABVP.'
So what really happened at Ramjas? The truth is, after that picture was uploaded, no one cared to find out.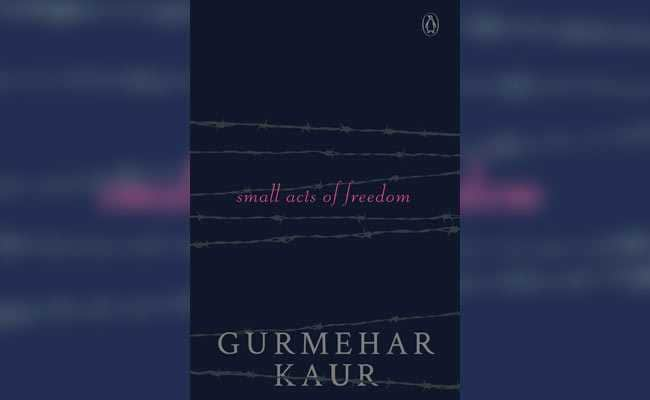 All of a sudden, I became the focus of a conversation I had not even started in the first place. No one could have predicted the events that followed. I became coloured by the narratives people imposed on me: I was the girl with the placard, but I was also the anti-national, the martyr's daughter, the student activist.
Here's what happened. After my picture with the placard went viral on social media, all sorts of things were dug out of the dust. A year previously, as part of a peace campaign I had participated in, I appeared in a video in which I held up a placard which read, 'Pakistan did not kill my father, war killed him.'
Does this seem callous? I genuinely believe that war is cruel and pointless and unnecessary.
I lost my father to war. If anyone knows the damage war can do, it's the family of an officer.
That video - which no one had paid attention to at the time-now resurfaced on social media. Screenshots of me were suddenly being shared online as further proof of my 'anti-national' tendencies. I had never faced as much hate as I did in the three days that followed. I had never even known that this much hate was possible.
People I revered and respected - celebrities, politicians, the media - went after me with a kind of vitriol that I could barely comprehend at first. From strangers, I received abuse and threats. It seemed that everyone had an opinion on my political beliefs but no one actually wanted to ask me what these were.
What bothered me the most was the unspoken accusation that I was not patriotic. At first, I couldn't articulate clearly why this bothered me so much. With hindsight, I now know what it was. The idea that I - a girl who had lost her father in the cause of the nation - didn't care about this country was not just ridiculous or laughable, it was actually hurtful. My father taught me more about the real meaning of patriotism in the few years I knew him than anyone else in the years that followed. He was brilliant, brave and loving, and he taught me that a love of peace was more patriotic than any macho enthusiasm for the battlefield. He taught me that hatred does not solve any problem in the world. And he taught me to stand up for myself.
I want no one to go through what I went through, what my family went through. I've had to live without a father for more years than I've lived with one. Why would I want anyone else to experience that? And all the people who expressed their hatred and accused me of apathy - they will never know how much I've had to struggle to get over the loss of my father.
I've been trolled, mocked and bullied. I've had people call me names. And I've been frightened for my life. But I emerged from all of that more determined than ever to never be silenced.
Excerpted with permission of Penguin Random House from Small Acts Of Freedom by Gurmehar Kaur. Pre-order your copy here.
Follow NDTV for latest election news and live coverage of assembly elections 2019 in Maharashtra and Haryana.
Subscribe to our YouTube channel, like us on Facebook or follow us on Twitter and Instagram for latest news and live news updates.