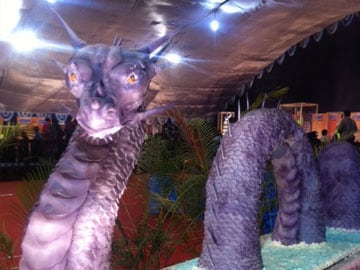 Bangalore:
A dragon, a shoe shop and a ship are among some of the treats on display at the 39th annual cake show which is being held at the St Joseph's Indian High School in Bangalore.
The Nilgiris cake show was named after a bakery in 1905. Today, the tradition is being carried on by former director of Nilgiris, C. Ramachandran.
The centrepiece this year is an 18-foot model of the Charminar - a sugary building that is edible right down to the tiny visitors shown walking around it. Five tonnes of sugar, 1000 eggs, and 30,000 man-hours were invested in design and development of the model, Gautam Agarwal, the organiser of the show, told NDTV.
Another star attraction is a life-size model of Sachin Tendulkar - an edible treat right down to his bat. One young woman said she was sad when the real Sachin retired and added there was some comfort in seeing him in his 'cakely' form.
There are many other models on display including a princess, a ship, a shoe shop, and a fierce looking dragon emerging from a blue sea.
The edible sculptures are given to charity after the show, and some are boiled down to extract the sugar, thus eliminating wastage.
The exhibition will remain open till December 29.