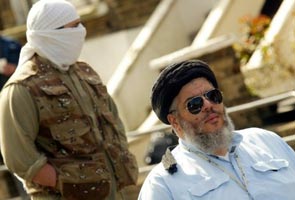 New York:
A US judge ordered that the radical Islamist preacher Abu Hamza be kept in detention, after a brief court hearing on Saturday in New York where the terror suspect was told of the 11 charges he faces.
Hamza, who lacked his trademark hook on the stump of his right arm, did not speak at the hearing which followed his extradition from Britain and was a prelude to a formal arraignment due on Tuesday where he will be formally charged.
"You have the right to remain silent," magistrate judge Frank Maas told the accused before summarizing the charges.
Sabrina Shroff, a lawyer for the self-avowed cleric, requested he be given special shoes without which "he will not be able to function in a civilized way" and requested medical care on account of his diabetes.
Hamza, 54, will face terrorism charges over a kidnapping in 1998 in Yemen, the establishment of a terrorist training camp in the United States, and for "facilitating violent jihad in Afghanistan," the Department of Justice said.
Ahead of Saturday's hearing US officials hailed the extradition of Hamza and two other terror suspects as a key victory in its battle against Al Qaeda.
"As is charged, these are men who were at the nerve centers of Al Qaeda's acts of terror, and they caused blood to be shed, lives to be lost, and families to be shattered," US Attorney Preet Bahara said in a statement.
"After years of protracted legal battles, the extradition of these three alleged terrorists to the United States is a watershed moment in our nation's efforts to eradicate terrorism."